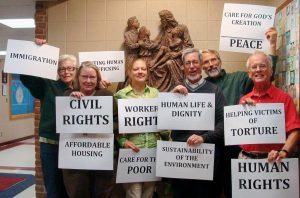 "If you want Peace, work for Justice"
– His Holiness Pope Paul VI, The Celebration of the Day of Peace, Jan. 1, 1972
Continuing education on the Church's concern for the poor, the natural environment, and for the migrant fuel the drive of parishioners to seek justice both in theory and in deeds.
The Peace & Justice Committee serves as the link between the parish and the larger community–educating, advocating, and promoting peace, justice, and social concerns relevant to Catholic Social Teaching.  The Church's social teaching focuses on building a just society and living lives of holiness amidst the challenges of modern society; it includes topics such as:  the dignity of human life, human rights, care for the Earth and its resources, the preferential option for the poor and vulnerable, workers' rights, and solidarity with all our human family.  See our Justice Advocacy Articles, as well as our series Consistent Life Ethic (CLE).
Please pray for the ministry work of our parish, especially our leadership committees.  Your voice would be helpful in our Peace & Justice Committee discussions.  Please join us at the next meeting.  The committee normally meets on the first Monday of each month (unless a holiday interferes and then it is the following Monday)  at 7:30 PM in the St. Francis School teachers' lounge.    I hope to see you there.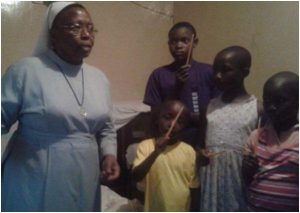 For more information contact:
Kelly Gauthier at chaysayd@yahoo.com / 734-769-0807 or Dick Brown  dickbrown27@hotmail.com  / 734-944-6096 or the Parish Outreach Ministry Office, Scott Wright at swright@stfrancisa2.org or 734-821-2121.
(Photo here is of Sr. Agnes in Kenya)
http://www.stfrancisa2.com/kenya/
---
Our projects include:
Justice Advocacy Articles
Stewardship of God's Creation: Sustainable Garden; Sustainability Project;
Human rights: Pregnancy Pro-Life Efforts; Consistent Life Ethic (CLE);
Hunger: CROP Hunger Walk – crophungerwalk.org/AnnArborMI;
Homelessness: Special Collections listed below here;
Civil rights: Martin Luther King, Jr. Celebration;
Peace / Conflict Resolution: Compassionate Communication;
Racial Justice: Subcommittee on Racism;
Poverty:
Refugee & Immigration Issues and Justice for Immigrants
Special Collections:
Our parish encourages all to organize charitable efforts to assist our families to do these…
The Spiritual Works of Mercy
Counseling The Doubtful
Instructing The Ignorant
Converting The Sinner
Comforting The Sorrowful
Forgiving Injuries
Bearing Wrongs Patiently
Praying For The Living And The Dead
Also, our parish encourages all, in collaboration with our St. Francis Parish St. Vincent Service Ministry to organize projects, (food drives, homeless shelters, tax preparation and the Giving Tree at Christmas) to assist poor families addressing these…
The Corporal Works of Mercy:
Feeding The Hungry
Giving Drink To The Thirsty
Sheltering The Homeless
Visiting The Sick
Visiting The Prisoners
Burying The Dead
Giving Alms To The Poor (give to those who lack = clothe the naked)
---
Questions? Contact   justice@stfrancisa2.org  or 734-821-2121.
We keep our blog with photos at: http://service4justice.blogspot.com/
---
Race
–
—

My PURPOSE is to love as Jesus, to dialog with "the Other."
This – Me, the "Other" – Trailer – is a super interesting movie on racism, a 10-part documentary about a diverse group of students living in Washtenaw County in Southeast Michigan.  See: https://metheotherfilm.com/
Our parish, St. Francis of Assisi, Ann Arbor, is developing several initiatives to support our pastor, Fr. James, and our bishop along with the Diocese of Lansing Task Force on Race and Catholic Schools.
Please join us in these efforts and begin today by watching this film!
"I pray that this task force is a positive step toward bringing many people of good will together on the issue [of racism] that is dividing some of our Catholic school communities. May God bless you all."   + Bishop Earl Boyea
Me, the "Other" Trailer Me, the "Other" is a documentary film about a diverse group of students living in Washtenaw County in Southeast Michigan.
St. Francis of Assisi Parish Peace and Justice Committee has some understanding of the following matters:
• How do our attitudes affect how we address racial issues?
• How does our "position" in our society affect (1) how we view other races and (2) how we interact with other races.
• How might we involve others (who may hold somewhat different views than we do on the topic) to consider the two previous questions?
Sign up here to receive information about the campaign, including early access to the "America To Me Community Conversation Guide" with tools to help you lead a watch party and host candid conversations about race and equity.
---
Contacts: Scott Wright & Michelle Eiden, Subcommittee on Racism, Peace and Justice Committee at St. Francis of Assisi Parish, Ann Arbor.
–