All men, from every stage of life, are invited to join the Men's Ministry!
Come learn, share, and grow in your faith through prayer, talks and fellowship!
---
Join us for one of our Upcoming Events: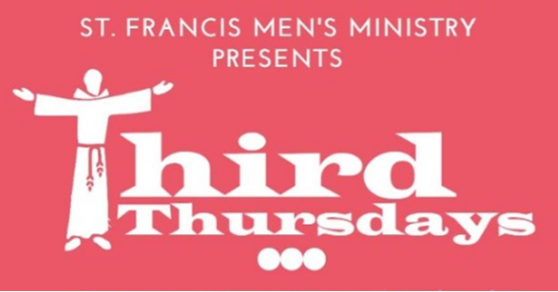 November 21
6:30 p.m. (in church) Evening Prayer; 7 p.m. (in PAC) Dinner & Talk
"Sharing Our Faith at the Thanksgiving Table"
The holidays are a time that we gather together with those we love most dearly. We share food, fellowship, laughs, and traditions. These times should center around our faith, yet this often becomes a contentious topic with some of our relatives and is therefore avoided. Fr. Tony will join us to speak on ways to share the Good News with our family and friends in a loving and respectful way. Jesus commands us to share the Good News, our salvation depends on it! We will discuss ways to witness and share the love of God and the message of salvation in a non-threatening yet convincing way. 
Faith is strengthened when it is given to others! -St. Pope John Paul II (RM 2)
$10 donation for Dinner.
Let us know if you're coming:
https://stfrancisa2.wufoo.com/forms/mens-ministry-sharing-our-faith-at-thanksgiving/
---
---
---

Runs 13 weeks: Saturday, September 14-December 14 (skip week of Thanksgiving)
Saturday Morning Schedule:
7:00 – 7:30 am- Light breakfast and fellowship.
7:30 – 8:00 am- Video from TMIY program
8:00 – 8:30 am- Small group sharing.
LOCATION: Parish Activities Center (P.A.C.)
CONTACT: Mike Smith msmith@stfrancisaa.org
For more info about the "That Man is You" program, visit: paradisusdei.org/that-man-is-you/
Start your day off right and be home in time to make breakfast for the family!
---
---
---
The St. Francis Men's Ministry exists to join men more fully each day in the mission of the Holy Spirit, by equipping them to live as disciples of Jesus Christ and to demonstrate the love of the Father through word and deed to a world in need.
---