All men, from every stage of life, are invited to join the Men's Ministry!
Come learn, share, and grow in your faith through prayer, talks and fellowship!
---
The St. Francis Men's Ministry exists to join men more fully each day to live as disciples of Jesus Christ through prayer, brotherly support and sharing.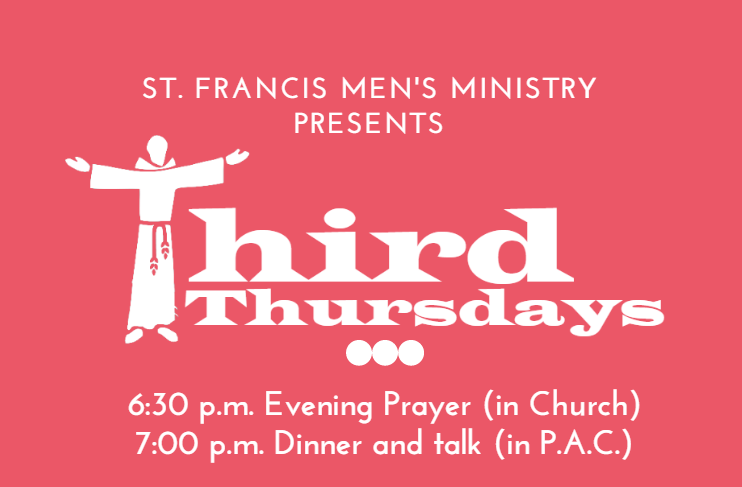 Join us:
Thursday, Feb. 21st
6:30 p.m. (in church) Evening Prayer
7 p.m. (in P.A.C.) Dinner & Talk
An Evening with the Pastor
Our beloved pastor, Fr. James, will join us for an evening of prayer and fellowship, and will speak on:
–
"Men of Truth in a Confused World"
God wants us to know the truth and to teach the truth to our families and also to defend the truth of Christ and His Church in this world.
–
Please help us in our planning and RSVP for Dinner:
–
---
Join us for one of our Upcoming Events:
Beginning March 7 through Lent: ALPHA
In fellowship, we'll participate in this parish-wide sponsored series. Look for the table(s) labeled "Men's Ministry."
March 21: That Man Is You
Mike Smith, St. Francis School Gym Teacher, Husband and Father will share his personal testimony of faith and how the program "That Man is You" transformed his life.
April 18: Holy Thursday
See you at Holy Thursday Mass, as we celebrate Jesus' initiation of the Eucharist.
May 16: Basketball, the Law, and the Lord
Marty Bodnar, devout Catholic, attorney, and former U of M Basketball player, will share with us his personal testimony of faith. He will speak on how his faith in Jesus Christ has motivated his work as an attorney and passion for collegiate athletics.
SUNDAY, June 23: Corpus Christi Celebration
This will be a parish-wide, family-friendly event! Join us in the celebration of this special feast!
---