---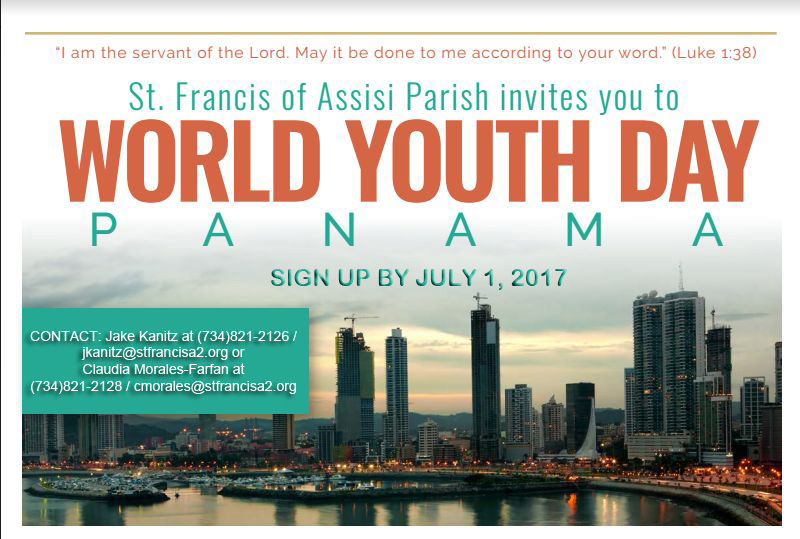 World Youth Day 2019, Panama  |  Jornada Mundial de la Juventud 2019, Panamá
This is trip is now a FULL  group.  We will celebrate our faith with millions of Catholics, including our beloved Pope Francis, in the beautiful land of Panama!
We will have fundraising opportunities Like Equal Exchange  for those attending and to give back to a Parish in Panama. Stay tuned!   Questions?  Contact Jake Kanitz at jkanitz@stfrancisa2.org or 734-821-2126 or Claudia Morales-Farfán (¡hablo español!) at cmorales@stfrancisa2.org or 734-821-2128.
---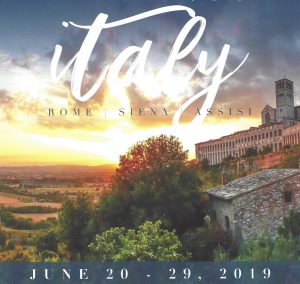 Pilgrimage to Italy: June 20-29, 2019
Come on this life-changing pilgrimage as we travel with Fr. James to Assisi, Siena, and Rome.
On this 10-day journey we will reflect on the lives of our patron, St. Francis of Assisi, as well as St. Clare of Assisi and St. Catherine of Siena as we tour beautiful basilicas, burial sites, and other holy places. Our journey also takes us to Rome where we will explore the sites of ancient & Christian Rome and have a general audience with Pope Francis (pending confirmation). Our pilgrimage includes daily Mass, and music provided by members of our music ministry.
The time to reserve your spot is now!  For brochure and registration information, visit the parish website or contact our Corporate Travel Representative, Dave O'Brien, at dobrien@ctscental.net or 1(313)565-8888 ext. 142.
Questions? Contact Dave O'Brien or Ginny Birchler, Handbell Director – gbirchler@strancisa2.org.
---
Notice that some pilgrimages are not listed on this page. Instead you can find them on our sign-up page, click here.
---
St. Francis of Assisi Catholic Parish, 2150 Frieze Ave., Ann Arbor, MI 48104.