Non-Perishable Food Donations

Every week of the year, all year long, members of St. Francis Parish bring non-perishable food items to Mass that are delivered by volunteers to local pantries. Volunteers deliver this food to the Northside Community Center of Catholic Social Services in Ann Arbor, and Hope Center in Ypsilanti, feeding over 50 families a week.   Please help!
Groceries are needed.  Please bring non-perishable food to Mass this weekend. Parishioners donate non-perishable Food Items each week during Mass in the basket at the front of our St. Francis' altar.
Also, you may drop off food items any time right into the wooden box near the drinking fountain at the church main entrance.  The hours that the Church doors are actually open for drop-off… – Monday – Friday 7am – 6pm;  – Saturday around 9am – 6pm;  – Sunday 6am – 6pm (except during summer at 2pm).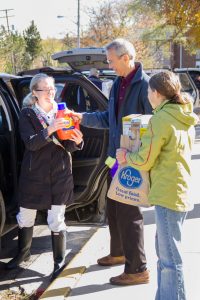 Either place you choose, more groceries are needed each week for our low-income neighbors who rely on our weekly food deliveries from St. Francis to the pantries at:  Hope Center, Ypsilanti (518 Harriet) (734-484-2989) & Northside Community Center Emergency Food Pantry, Ann Arbor (815 Taylor) (734-662-4462).    Especially needed: canned soups, peanut butter and jam, or any lunch foods. Please check the expiration dates before you drop things off.
Shopping Lists for November and February. (printable all on one page, plus individual lists) (The Shopping Lists for Detroit in June are different. They are listed and printable on  pages 8-12 here   .)  Please place in this bag a selection of grocery items from the list. Then return it to church during the weekend Masses THE NEXT WEEK. (At church, just take the Food to your seat.)
Also, donations may be made to our St. Vincent de Paul of St. Francis Parish, which helps the pantries feed those in need.    If you can help, please make your check payable to "St. Francis Parish", with "St. Vincent de Paul" on the memo line.    When did I See You Hungry?  Please help!   Groceries are needed.
Help Deliver Food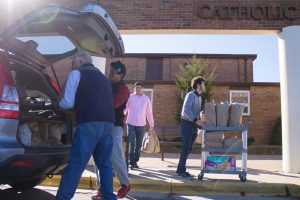 Volunteers are needed for pick-up and delivery or as a substitute. It just requires a car and about an hour of time on a Monday or a Tuesday once a month.
Volunteers are also needed to help with the following food drives.
February/March Food Drive, during Lent, for delivery to pantries in Ann Arbor and Ypsilanti.  (The Shopping Lists)
June Food Drive, for delivery to Detroit or Flint pantry program. (The Shopping Lists)
November Food Drive, delivered the Sunday, or two, before Thanksgiving. (The Shopping Lists on pages 8-12 here.)
---
If you are interested in helping with leadership (Coordinator Position Description)  or, for more information contact Scott Wright, Director of Parish Service + Justice Ministry Office, at swright@stfrancisa2.org or 734-821-2121.
---
Assist at Emergency Food Program
Serve a Meal to the Hungry!    (Also,  Thanksgiving & Christmas Opportunities)
Food Drive Thank You Articles are posted on our blog here