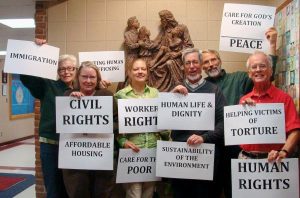 "If you want Peace, work for Justice"
– His Holiness Pope Paul VI, The Celebration of the Day of Peace, Jan. 1, 1972
Continuing education on the Church's concern for the poor, the natural environment, and for the migrant, this helps to fuel the drive of parishioners to seek justice both in theory and in deeds.
The Life, Peace & Justice Committee serves as the link between the parish and the larger community–educating, advocating, and promoting life, peace, justice, and social concerns relevant to Catholic Social Teaching.  The Church's social teaching focuses on building a just society and living lives of holiness amidst the challenges of modern society; it includes topics such as:  the dignity of human life, human rights, care for the Earth and its resources, the preferential option for the poor and vulnerable, workers' rights, and solidarity with all our human family.  See our Justice Advocacy Articles, as well as our series Consistent Life Ethic (CLE).
Please pray for the ministry work of our parish, especially our leadership committees.  Your voice would be helpful in our Life, Peace & Justice Committee discussions.  Please join us at the next meeting.  The committee normally meets on the SECOND MONDAYS of each month at 7:00 PM ON the St. Francis Parish ZOOM.    I hope to see you there.
For more information contact:
Kelly Gauthier at chaysayd@yahoo.com / 734-769-0807 or Dick Brown  dickbrown27@hotmail.com  / 734-944-6096 or the Parish Outreach Ministry Office, Scott Wright at swright@stfrancisa2.org or 734-821-2121.
Our projects include:
---
---
Our parish encourages all to organize charitable efforts to assist our families to do these…
The Spiritual Works of Mercy
Counseling The Doubtful
Instructing The Ignorant
Converting The Sinner
Comforting The Sorrowful
Forgiving Injuries
Bearing Wrongs Patiently
Praying For The Living And The Dead
Also, our parish encourages all, in collaboration with our St. Francis Parish St. Vincent Service Ministry to organize projects, (food drives, homeless shelters, tax preparation and the Giving Tree at Christmas) to assist poor families addressing these…
The Corporal Works of Mercy:
Feeding The Hungry
Giving Drink To The Thirsty
Sheltering The Homeless
Visiting The Sick
Visiting The Prisoners
Burying The Dead
Giving Alms To The Poor (give to those who lack = clothe the naked)
---
Questions? Contact   justice@stfrancisa2.org  or 734-821-2121.
We keep our blog with photos at: http://service4justice.blogspot.com/