Become a Registered Member
of St. Francis Parish
To register, please fill out a New Member Registration Form. You can find this form online here, at the church entrances (in clear wall pocket) or in the Parish Office. Submit your form online, or drop the completed form in the weekend collection basket or by the Parish Office.
Para el formulario de registro en español, haga click aquí. O llene el formulario que encontrará en las entradas de la iglesia (en las cajas transparentes adheridas a la pared) o en la oficina de la Parroquia.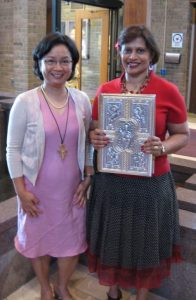 After Registration

You will receive a welcome letter from our pastor Fr. James Conlon and a neighborhood coordinator will contact you to drop off a new member packet. You will receive an invitation to a new member reception (held semi-annually). St. Francis is a vibrant and large parish. The new member receptions are a great way to get to know your parish. Being involved in a small prayer group, an activity or ministry will help you to be part of the St. Francis parish community. Browse our weekly bulletin, the Forum, and our website, to see the many opportunities to become involved and make St. Francis your parish. Remember to include your email address on the registration form. We email Lenten and Advent scripture and meditations written by our pastoral staff and other important information.
How Do I Contribute?    Your Gifts: His Works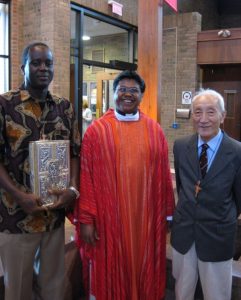 (Previously known as Time & Talent)
When you share your gifts and works with others, you show your love for God and one another. You help create a strong community of faith through your generous acts and deeds and you gain a greater spiritual balance in your life. Our gifts, too, are resources to be used in our lives of stewardship.Participating in the life of our parish is a vital component to your presence here at St. Francis. To help you discern how you can be a happy member of our parish, please review our Yours Gifts: His Works Form below.All of the ministries at St. Francis Parish depend on the dedication of volunteers who selflessly share their gifts and works to help others. Please fill out the Your Gifts: His Works Form below and help to bring good to the world.
Gifts (Treasure)
When we commit to return a portion of our blessings back to God, with the tithe as our model, we express the importance of our faith as well as our joy at having received and our ability to give. Contributions to St. Francis Parish help with the good works of Christ that we are doing for our parishioners and greater community. In sharing your treasure with your parish, you can be confident that your donations are used prudently and that you are doing God's work. Help God accomplish His work. Give of your treasure joyfully. Let your open and trusting spirit guide you. Put God first on your "list" of financial obligations. He depends on each and every one of us to help build His Kingdom on earth.
Donation Envelopes and Direct Debit
If you request donation envelopes, they will be mailed to your home every 2 months. Please consider making your Sunday Offering through Parish Soft Giving. PSG allows ACH or credit card donations, recurring and/or one-time gifts, provides flexibility to donate throughout the month, and will accept donations for special funds like India, DSA, Hopes and Dreams.
Forms and Resources
New Member Registration Form
---