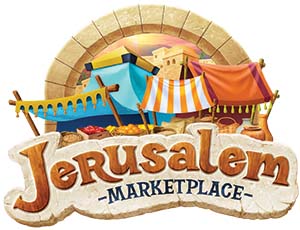 Bring your entire family to this year's VBS: Jerusalem Marketplace, and join Jesus' faithful friends and followers
during Jesus' days on earth. You'll travel back into Bible times—without setting foot outside our community. Jerusalem Marketplace is a Vacation Bible School Camp (VBS) experience for children aged preK-5th grade with Middle Schoolers, High Schoolers, and Parents invited as volunteers in this fast paced, excitement filled summer adventure: Monday-Friday, July 25-29 from 9am-12noon* (*On Friday, July 29, plan on staying a little longer for the closing program beginning at 12 noon with a picnic following).
Each day of VBS, your children and family volunteers can become part of the adventure as they see, hear, touch, and even taste what it was like to live in Bible-times! They will explore the marketplace shops, take part in games, visit an onsite petting farm, Experience bee-keeping and honey, sing and even dance to lively Bible songs, and sample tasty tidbits as they discover more about Jesus' ministry. These experiences make God's Word come alive with new meaning for all who participate!
Join the fun at: St. Francis of Assisi Parish, Ann Arbor and Grounds
Mark these dates on your calendar: Monday through Friday, July 25-29
The adventure starts at 9am and will end at 12noon* (*longer on Friday).
If you have not already done so, you can register your children and sign-up other family members for volunteering for this awesome immersive experience at:
https://stfrancisa2.wufoo.com/forms/2022-vacation-bible-school-signup/
Blessings,
Ellen Ward
Your Summer VBS Adventure Director
734-821-2132 (office)