During Advent and Christmas seasons share the joy of gifts.

Join us for our
St. Francis Annual Advent Season GIVING TREE.  This gift donating tradition is a beautiful sign that our community cares for those  at-risk persons and families struggling economically. 
2021:  Gift-tags are hanging on our tree in church and on our tree on-line here.  This sign-up form provides us all with the way to enroll (request access to the gift list) it's a two-step process.  Then access to view and select the gift-tags to participate as a gift shopper.
After you sign-up / enroll you will get an email with the link to the spreadsheet list of gifts AND your unique Donor Number.  There in the spreadsheet you will select an empty cell where typing in your "Donor Number" will show that you have selected and claimed that gift-tag.  By using that donor number it keeps your identity confidential in the spreadsheet, so, other donors will only see which gift-tags are already claimed without your name.  Like taking a gift tag off "the virtual tree!"  If there is already a "donor number" in the 1st "Column A" to the left of the "gift-needed" (Column B) it means that someone already selected that gift.  (Column A on a phone you may need to scroll to the left when opening the spreadsheet).
And, you will also see that: "John – Meijer gift card" means that, at that charity, gift cards are for specific people. Whereas other charities just list "Meijer gift card" without specifying who the gift is for.)  Are you using a phone, tablet or a "regular" laptop or desktop computer to edit the sheet?  Read More
Gifts are due by Sun, Dec 12th.   It's best to drop off during office hours or at Mass.   Gifts may be wrapped or not, either way is fine.  Gift cards, should they be boxed or not?  It's a good idea to put little items, like gift cards, into a larger envelope or a box so that the cards do not get easily lost.  The "Return Code # gift-tag-label" to include on your present/tag (it's the code number that is in the 3rd "Column C" in yellow) it needs to be written on the tag and attached onto the gift package.  That "Code # gift-tag-label" assures that the gift will get back to the organization and family in need that requested the gift-needed.   This year with Covid-19 precautions and fewer people able to attend Mass in-person, more people will (probably order gifts online and) send gifts by U.S. Mail.   Return the gift(s):
– by U.S. Mail to: St. Francis Giving Tree, ATTENTION:

CODE #

,

2150 Frieze Ave, Ann Arbor MI 48104; or,

 
– at the Parish office (open weekdays 9-5); or,
– after Mass on weekends and most weekdays, (the gifts that are placed by the giving tree in the church – near the Holy Family statue – will be moved promptly to the parish office); or, 
– at Mass in the Sunday donation basket by the Altar.
---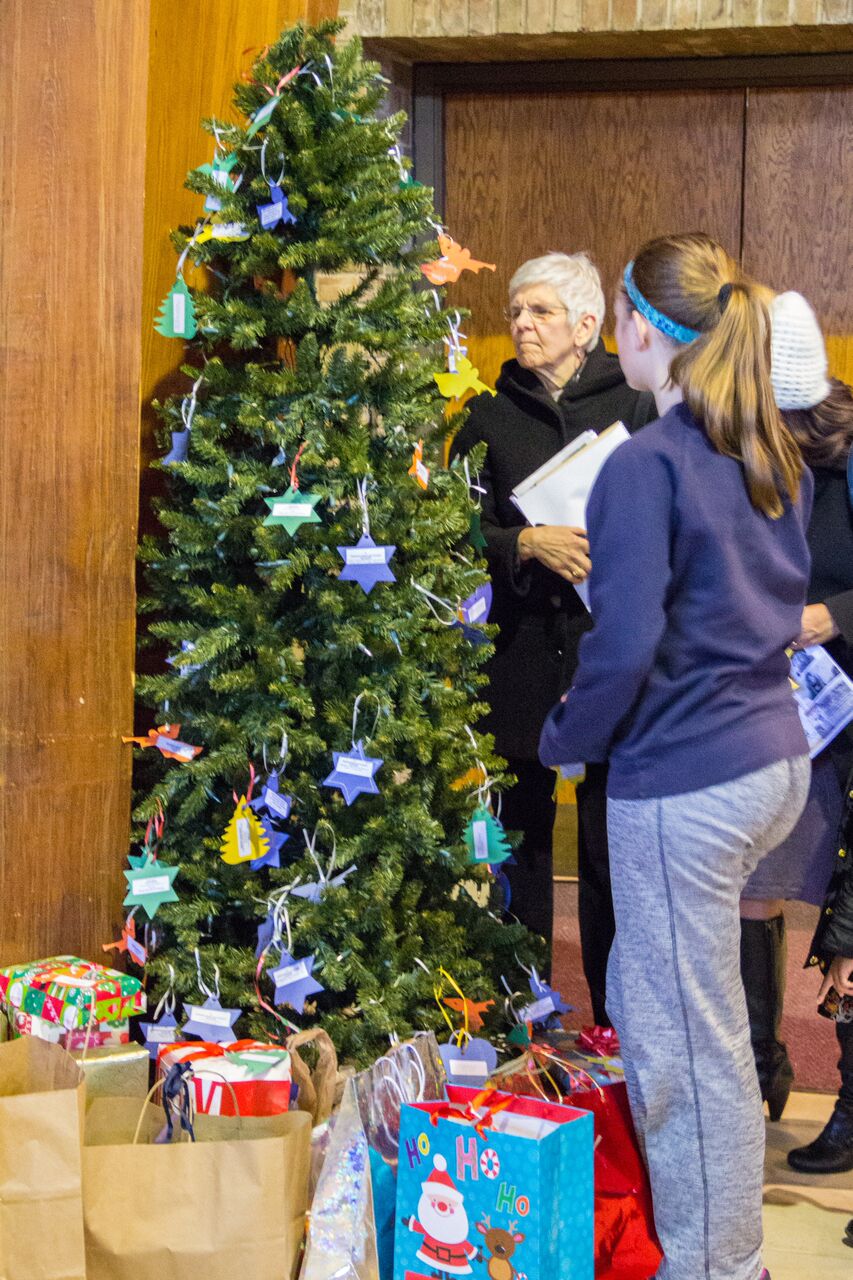 Volunteer as a helper on our team that makes this amazing program possible. Please see our Giving Tree Volunteer Sign-Up.  
Benefiting ORGANIZATIONS
St. Louis Center (SLC)

Community Mental Health (

CMH)

Project Transition (PT)

Home of New Vision (HNV)

Arbor Woman (AW)

Ozone House (OZONE)

HIV Unified Health and Beyond (HIV)
& Additional Gifts Are Needed for these organizations which are not listed on our Giving Tree spreadsheet/ornaments.
8.  HOPE Clinic:  See the giving portal here  https://thehopeclinic.org/hope-for-the-holidays
9.  Catholic Social Services of Washtenaw County (CSSW) requests gift cards to Walmart, Kroger, or Meijer. Please Post Mail them directly to: Catholic Social Services, Att:  Susan Valasco, 4925 Packard Rd., Ann Arbor, MI 48108.
10.  Foundations Preschool of Ann Arbor requests gift cards to Meijer or Target. Please Post Mail them directly to: Foundations Preschool, 3770 Packard St, Ann Arbor, MI 48108.
11.  Mexiquenses en Michigan is an organization under the financial auspices of St Francis of Assisi Parish, that serves the Latino families in need in the local community. Gift cards to Walmart, Aldi, Target, Meijers and Kroger can be mailed, by December 10, to St Francis of Assisi Parish, 2150 Frieze Ave, Ann Arbor, MI 48104, Attn: Mexiquenses en Michigan.
---
 For more information contact Scott Wright, Director of Parish Outreach Ministry Office, at swright@stfrancisa2.org or 734-821-2121.
---
Thank you to Corrigan Moving of Ann Arbor for their generous donation of the storage containers "Corrigan Cube" where we house all the gifts until they are distributed.