---

We give thanks to God and The Diocese of Lansing for hosting this enrichment session. Here's the YouTube RECORDING of our Jail/Prison Ministry Zoom Call Nov 2020 …  Our presenter was Father Matthew Palkowski, OFM Cap, who has been serving in the Philadelphia PA county jail system for about nine years.  
Please continue to pray for inmates, cut off from family visits and our spiritual support.  Certainly, this is a very difficult time for them and a challenging time for the officers and staff as well.  May the Lord show the way for us to serve our incarcerated brothers and sisters.  For those who have died due to the pandemic, may they rest in peace.  Blessings upon their families too!
---
---
Jesus is in JAIL! Will you pray with Him?
"Be Not Afraid!" Jesus was incarcerated during his life, and he can still be found in the jail. Come and see for yourself. Join a ministry team! Volunteer Ministers: Have a Charisma for Christ, and, an ability to share faith in Jesus. Consider assisting with Catholic Services at the Jail for both women and men. A group of at least four Catholic volunteers from local Catholic parishes visit the jail every week. Some volunteers serve on an as needed basis, and, others serve on one Saturday or Sunday each month, and, others serve every other week.  We even have some volunteers that help with a Catholic Inquiry/Catechism Class on Wednesday evenings.
Catholic Religious Services in the Washtenaw County Jail
Every Saturday morning all enter the Jail at 8:45 am; and depart at about 10:45 am. We have the main weekly celebration of the Mass with Holy Communion. We greatly appreciate it when we can have several ministers present to help with prayer, Eucharistic, music, assigning readings, serving, and hospitality.
Every Sunday evening all enter the Jail at 7:00 pm. We have a service in the jail every Sunday evening – alternating one week for the Men and then one week for the Women.  Eucharistic Adoration is usually the central part of these services and we greatly appreciate it when we can have a musician to lead the worship and share in the ministry.
Every Wednesday evening all enter the Jail at 7:00 pm. We have at least two groups for men and one for women. We usually have one Bible/Catechism II Class/Catholic Inquiry Session and one RCIA Group in the jail. We greatly appreciate it when we can have several ministers present to help with: attendance/hospitality, teaching, sharing.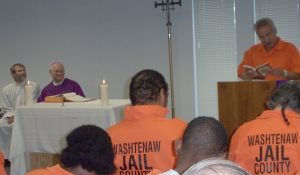 To be a Jail Volunteer
you must attend an orientation.
All volunteers before entering the Jail, must attend an orientation on "The Rules & Regulations of the Jail" presented by the Jail staff at the Jail. Orientations are scheduled three times a year (around February, June, and November). SIGN-UP to attend the Orientation!  Or, RSVP to Scott Wright swright@stfrancisa2.org  or 734-821-2121.
The Jail Orientations are required for all volunteers and ministers including our priests and deacons.  After being cleared to enter, our priests may sign-up here, and our deacons, and volunteer ministers may sign-up here.
The Washtenaw County Jail Location
is at the Sheriff's Office and Washtenaw County Service Center: 2201 Hogback Road, Ann Arbor, MI 48105
---
Other Ministry Opportunities … IN ADDITION, you may be also interested in learning more about the Catholic Ministry at:
Friends of the Master is an additional organization set up to create and sustain housing communities of faith for parolees … called Friends of the Master House.    Friends of the Master has roots in our  Washtenaw County Catholic Jail Ministry.   (PHOTOS)
Huron Valley Women's Correctional Facility  (at Ypsilanti, Bemis Road, near Platt Road)
Women and Men are invited to join in our Prison Ministry and remind offenders of the basic truth: they are a creation of God – and God does not make junk!  Together we'll reach out in hope to the incarcerated.  Centered in Christ providing worship services…, everything that happens in a church community outside, happens inside… providing Christian care and support we:
Affirm by our presence – show all that they are worthy of our time and attention.
Listen to the stories – without judging or admonishing.
Support each in prayer – in the struggles with surroundings. To be there is the best thing we can do for them!
Interested? (Read more details.) Contact:
Scott Wright (734-821-2121) justice@stfrancisa2.org
---
HISTORY RECORD of the establishment of Catholic Religious Services in the Washtenaw County Jail (WCJ).
Dear Pastors and Donors:
Contributions From Parishes Help Cover the Costs for Both of these Regional Ministries at the Huron Valley Women's Correctional Prison and the Washtenaw County Jail.    Our partnership between these two ministries facilitates the sharing of resources and ministers.  Please consider making a contribution each year to this Catholic Ministry, and, please encourage the faithful to pray and volunteer.
---