---
Saturday, June 11th, from 10am-1pm.
Bring Your Electronics – Recycle Your E-Waste!   
Saturday, June 11th,
2022,
—from 10am-1pm.
The AIM ECycling truck will accept donations at St. Francis in front of the school (near corner of East Stadium Blvd. and St. Francis Ave.)
If it plugs in or runs on batteries, AIM ECycling can recycle it! They also accept VCR tapes, audio tapes, DVDs, CDs, chargers/cords/cables/wires, video games, car batteries, phones, office equipment, metals and metal fixtures, power tools, etc.
With the exceptions of CRT glass monitors & glass TV's and No light bulbs, instead take them to the Recycle Drop-off Station at 2950 E. Ellsworth Road, Ann Arbor. Or, to the Home Toxics Center at 705 N. Zeeb Road, Ann Arbor. 
Questions? Contact Scott Wright 734-821-2121  swright@stfrancisa2.org
---
What does Sustainability mean for you? What connections do you see between energy use in your home and your relationship with God? How can we, as a Parish, be better stewards of the creation God has given us? As people of Faith, we have a moral imperative to care for God's creation and its deep distresses.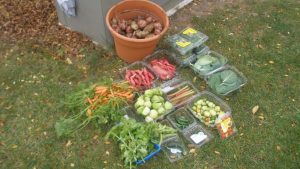 Pope Benedict XVI tells us: "Preservation of the environment, promotion of sustainable development and particular attention to climate change are matters of grave concern for the entire human family.
At St. Francis Parish we believe creation is good, and that we are called to care for our less fortunate sisters and brothers by way of so many outreach programs, (just to name a few), hot meals, food drives, home repairs, Christmas gifts, and shelter programs. And, our St. Francis Parish sustainability efforts are rooted in this same belief and concern.  Join us as we are connecting faith & ecology, creation & climate.  – Scott Wright
---
Plant-Based Potluck Eating Group:  A St. Francis group of parishioners interested in or practicing a plant-based diet has met several times in the past year. Participants brought a plant-based, oil-free dish to pass, and we had great conversation about the challenges and benefits of the plant-based lifestyle. This lifestyle, sometimes called vegan, focuses on fruits and vegetables and avoids meat and animal products such as eggs, milk, and cheese. It is not so much a diet as a way of life. The evidence shows that it significantly reduces heart disease, cancers, diabetes, and other major illnesses. It also helps the environment by reducing the resources consumed by food production.   
---
St. Francis of Assisi Parish
Sustainability Project
FRAME WORK
I. getting started: 
building commitment, leaders, Sustainability teamII. faith foundation: 
liturgy & sermons – prayer & spiritualityIII. communication & education: 
school, religious education (youth), faith formation (adult)
IV. stewardship action: 
'greening' our parish, homes & lifestyles – energy, bulidings, transportation – purchasing, recycling, waste – food, land, water – culture change
V. social & environmental justice & advocacy:
justice actions local & global – advocacy
---
PURPOSE STATEMENT
and OVERVIEW
The purpose of the Sustainability Project at St. Francis is to:
~ work together to build up the capacity of our Parish and parishioners to be good environmental stewards
~ make the needed changes in our parish and in our homes to improve our stewardship of God's creation and reduce our carbon footprint ~ educate parishioners on the effects of warming trends globally that have the greatest impact on the poorest among us and on future generations so that we strengthen our work on social justice and advocacy.
---

Take the St. Francis Pledge to
Care for Creation
---
St. Francis of Assisi Parish
Environmental Policy Statement
Our patron Saint, St. Francis of Assisi, believed that nature itself was "the mirror of God."  He preached the duty of all people "to protect and enjoy nature as … *Published Sept 2011 by St. Francis Finance Council
---
St. Francis Parish and School Blazing Trails for the Environment!
St. Francis Parish and School have been honored … and, again awarded a "Waste-Knot" Award for 2011, by Washtenaw County, Department of Planning and Environment, marking our twelfth consecutive year that we have been so honored!  … A Forum article published in September 2011
---
St. Francis News in AnnArbor.com
Faith Based Sustainability Program to Protect the Environment
Sustainability Partnership
There is mutual interest in "greening" our Parishes. Our first focus is to understand what our Catholic faith tells us about caring for God's creation.   Here are a few excerpts from the Pope and the US Conference of Catholic Bishops that tell us why this work is so (continue reading this article and more on our St. Francis Parish Sustainability Project Blog, where you can add your own comments on our articles!)
Articles on Sustainability in Forum Bulletin
Add your own comments to our articles! You are welcome to participate in our Sustainability Project and join the team efforts. There are a variety of ways you can engage.  Contact the St. Francis Sustainability Team at 734-821-2121.
Sign-up Here!   Care for creation and the climate by rethinking our energy use, transportation, land and water, food, buildings, purchasing and recycling, culture/behavior-change so that we reduce our carbon footprint. We need you to help us serve as better stewards of God's creation.  And, this is also a great opportunity to connect with others at St. Francis Parish, Ann Arbor. (The Sustainability Project Officially Started at St. Francis, Ann Arbor, May 2012)
Better Bulidings of Michigan:
Make energy improvements to your home. Clean Energy Coalition and St. Francis have identified four local energy specialists. (Also see FREE: Furnace & Boiler Test & Tune program & Refrigerator Replacement.)
Organic Farming and Food – Why Bother?
If a corn plant is surrounded by dead weeds that have just been sprayed with herbicide, do I think that corn plant has not been affected in some way? (Read this article and more on our St. Francis Parish Sustainability Project Blog, where you can add your own comments on our articles!)
CLIMATE NEWS from Catholic Coalition on Climate Change, Wednesday, July 18, 2012, Responses to Severe Weather
Join Our St. Francis Parish Sustainability Project
Comment on our articles at: stfrancisa2sustainability.blogspot.com/
Sign-up Here!  Engage with and join in the efforts of our emerging Sustainability Team to care for God's creation, while connecting with others at St. Francis Parish.
"Catholic Theological Foundations for addressing Climate Change"
St. Francis of Assisi Parish Environmental Policy Statement
St. Francis Parish and School "Waste-Knot" Award by Washtenaw County, Department of Planning and Environment 
Michigan Interfaith Power and Light (Mi-IP&L)   &  Success Stories about St. Francis, Ann Arbor
St. Francis Parish Sustainable Garden ProjectOur St. Francis Parish Life, Peace & Justice Efforts – Past