Around the issues of pregnancy and conception St. Francis affirms life!
Also, see our Consistent Life Ethic (CLE).
---

Pregnancy Help
Pregnant? We Care. We Listen
If you think that you are pregnant and you don't know what to do next . . . We listen, we care! Compassionate care is as close as the nearest telephone for anyone who needs our help. Volunteer pregnancy consultants are available by phone 24 hours a day, to assist women facing difficult circumstances related to a crisis pregnancy.  We explore life-affirming alternatives with women, enabling them to make choices that are best for themselves, their future and their babies.   Here is our list of helpful contacts.
Help is a Call Away:
Arbor Women's Center (734-994-8863) Services: Pregnancy testing, ultrasound, pregnancy options counseling, material resource referrals, post-abortion counseling.  (more)
Catholic Social Services of Washtenaw County (734-971-9781) Services:  Pregnancy counseling, newborn adoption, Father Pat Jackson House (teen pregnancy), foster care, post adoption services, waiting child adoption. (more)
Family Life Services / Pregnancy Counseling Center (Call or text: 734.219.5252) (Call: 734-434-3088) Services: Free pregnancy test, Limited Ultrasound, after abortion recovery support.  (more)
OptionLine (24hr assistance)  1-800-712-HELP (1-800-712-4357) Services:  Information re: unplanned/crisis pregnancy, adoption, and post-abortion assistance  (more)
Mary's Mantle marysmantle.net , a Catholic home for expectant mothers in southeast Michigan.
Perinatal Hospice and Tender Care of Washtenaw County, Janet Holtz 734-395-0400  perinatalhospice@gmail.com  or,  www.pnhospice.org , or our FaceBook Page, which provides support, education, and encouragement to families who choose to carry their dying baby to term.
Hurting after an Abortion?
If you have decided to give up your child through an abortion or if you know someone who has we want to help you. We understand that this is a painful time. You are loved! Contact St. Francis Parish Office, Scott Wright at swright@stfrancisa2.org or 734-821-2121.
Also Project Rachel is a safe place to heal hearts broken by abortion. This healing ministry in the Catholic Church offers opportunities for healing through specially trained priests, professional therapists and Rachel's Vineyard Retreat weekends. Contact confidentially: (517-993-0291) (1-877-HOPE-4-ME)   rachelsvineyard.org  nlc@resurrectionlansing.org  .
---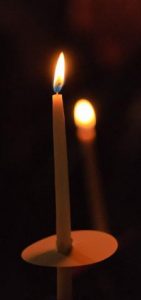 Each year, we recognize the heroes on January 22.  The courage and grace shown by all women who choose life—in the face of fear, uncertainty, parental or partner intimidation, seemingly insurmountable odds, especially in cases of rape—make them today's heroes, whose self-giving love is transforming our culture. And, these heroes are not alone, but are joined by the many who counsel, support, and nurture them both before and after the birth of their child. Such self-giving love is heroic.  Become a hero.   Consider joining some of these activities:
Light a Candle for Life!  On January 21st or 22nd, place a lit candle on your porch around dusk and let it burn into the night as a silent witness to commemorate over 57 million babies lives lost to and the millions of lives changed by abortion.  (By placing a candle in a jar or into a paper bag, you can make your own porch luminary display.)
Life Candles will be made available at all the weekend masses for $1 by our St. Francis Parish.
If you can help distribute candles the weekend in January please sign-up here.   Family participation is welcomed.
Pray For The Legal Protection of Unborn Children at Mass Jan 22 in St Francis Church, Ann Arbor.
Catholics are called to promote the common good, participate in the democratic process and become informed about how our elected officials are representing our state. An easy way to stay informed is to join the Catholic Advocacy Network, where the Michigan Catholic Conference (MCC) provides updates on issues important to the common good, which are represented by the principles of Catholic social teaching. The Catholic Advocacy Network also allows participants to email their elected officials in a simple way about bills moving through the Michigan Legislature. To make your voice heard, and to join with Catholics across the state promoting justice and dignity for all, I would encourage you to sign-up for the Catholic Advocacy Network at www.micatholic.org.
Our Bishops'  said in the 1998 statement, Living the Gospel of Life,
"Abortion and euthanasia have become preeminent threats to human life and dignity because they directly attack life itself, the most fundamental good and the condition for all others,"
                    – United States Catholic Conference, Living the Gospel of Life #5

In other words we must first guarantee a persons right to live. Then we can also help that person get the necessary food, clothes and education.
Pray for an End of Abortion
In abortion One Heart Stops and Another Heart Breaks. Please pray for healing for the living victims of abortion especially the moms, dads, siblings and grandparents.
---
The Michigan Catholic Conference (MCC) – Catholic Legislative Advocacy Network  — Michigan Catholic Conference — youtube video.
---
Pray for an End of Abortion
In abortion One Heart Stops and Another Heart Breaks. Please pray for healing for the living victims of abortion especially the moms, dads, siblings and grandparents.
For prolife concerns about ending the practice of abortion, we post our current news items on:
St. Francis Parish Pro-Life Blog
See our series Consistent Life Ethic (CLE).