---
---
---
 (Read our Justice Advocacy Articles.)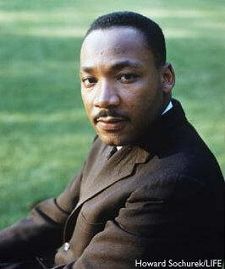 While he was not a Catholic himself, we celebrate the life and work of Martin Luther King Jr. because his goals are completely aligned with the themes of Catholic Social Teaching:  the life and dignity of all people; the call to community participation and inclusion of all Americans, regardless of their skin color, in our democracy; the duty to advocate for those who are downtrodden, putting the needs of the poor and vulnerable first; and solidarity in our one human family, regardless of racial, ethnic, economic, and ideological differences.   The National Holiday is observed annually on the third Monday of January. Reverend King's actual birthday is January 15.
Masses to commemorate Reverend King
Join St. Francis of Assisi Parish as we celebrate and honor the life of the Reverend Dr. Martin Luther King, Jr., through scripture and song, to recognize his good efforts and advancement of our Human Rights and Civil Rights as certainly in keeping with the Gospel of Jesus Christ. Look for information in the Parish bulletin In early January for Masses where we will commemorate the memory of the Reverend Martin Luther King, Jr.
---
Since 2008 we have commemorated the life and legacy of Reverend Doctor Martin Luther King, Jr. with Mass, Choirs & Dinner together with both St. Francis Parish and our sister parish, Corpus Christi Catholic Church, Detroit.
". . . Dr. King's life and the cause for which he died were in full accord with the teachings embedded in the Church's social doctrine. Over the centuries, the Church has shown her concern for human life in society, for the relationships of justice and love that form the fabric of society. The Church has protected and promoted the dignity and rights of the person, and peace in the relationships between persons and between communities of persons. Dr. King, through his life, his work and his death, championed the dignity and rights of his people—and of all people. Join with us in commemorating him at our Masses by praying for the coming of peace and justice throughout the world." – Phil Kearney
For more information contact the Parish Outreach Ministry at justice@stfrancisa2.org or 734-821-2121
---
Links
Commemorate Reverend King, and, sign-up to eat and help with the dinner, here.
Racial Justice @ St. Francis Parish & Justice Advocacy Articles
Corpus Christi Catholic Church, Detroit (Our Sister Parish)
---