Serve those who know the experience of being poor and needy!
At St. Francis Parish, our food drives, homeless shelters, tax preparation and the Giving Tree at Christmas, are projects, or Corporal Works of Mercy, established and maintained by our parish St. Vincent Service Ministry.  These projects respond to the basic needs of humanity as we journey together through this life.  See our sign-ups for service project opportunities here.
Come and Join Us!  St. Vincent Service Ministry, our committee, normally meets on the first Thursday of each month at 7 PM in the St. Francis Parish Office.    EXCEPT when the first Thursday is a Holy day (like Easter time).     I hope to see you there.
Questions? Contact   justice@stfrancisa2.org  or 734-821-2121.
Tom Powell (843-327-5893); or, Mary Hayden (734-973-0461); or Linda Wiseman (734-845-2930).
---
The Corporal Works of Mercy are found in the teachings of Jesus and give us a model for how we should treat all others, as if they were Christ in disguise. They "are charitable actions by which we help our neighbors in their bodily needs" (USCCA = U.S. Catholic Catechism For Adults).
FEED THE HUNGRY
GIVE DRINK TO THE THIRSTY
SHELTER THE HOMELESS
VISIT THE SICK
VISIT THE PRISONERS
BURY THE DEAD
GIVE ALMS TO THE POOR (give to those who lack = clothe the naked) DONATE NOW
---
The seven Corporal Works of Mercy are listed below. After each work of mercy there are also suggestions and words of advice for living them out in our daily lives. Have your own suggestions? Let us know.
1. FEED THE HUNGRY
There are many people in this world who go without food. When so much of our food goes to waste, consider how good stewardship practices of your own food habits can benefit others who do not have those same resources.
2. GIVE DRINK TO THE THIRSTY
Many of our brothers and sisters in Christ do not have access to clean water and suffer from the lack of this basic necessity. Make an effort not to waste water. Remembering to turn off the water faucet when you are brushing your teeth or washing dishes can help, especially in regions suffering from drought.
Collect bottled water to distribute at a shelter for families. Learn about Faith in Flint! See: faithinflint.com
3. SHELTER THE HOMELESS
There are many circumstances that could lead to someone becoming a person without a home. Christ encourages us to go out and meet those without homes, affirming their worth and helping them seek a resolution to the challenges they face.
There are millions of children and families who are on the move, fleeing from war, illness, hunger and impossible living conditions, and searching for peace and safety. Seek ways to provide shelter for the homeless locally, regionally, nationally or internationally.
4. VISIT THE SICK
Those who are sick are often forgotten or avoided. In spite of their illness, these individuals still have much to offer to those who take the time to visit and comfort them.
5. VISIT THE PRISONERS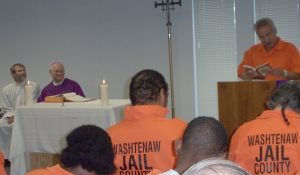 People in prison are still people, made in the image and likeness of God. No matter what someone has done, they deserve the opportunity to hear the Word of God and find the Truth of the message of Christ.
6. BURY THE DEAD
Funerals give us the opportunity to grieve and show others support during difficult times. Through our prayers and actions during these times we show our respect for life, which is always a gift from God, and comfort to those who mourn.
7. GIVE ALMS TO THE POOR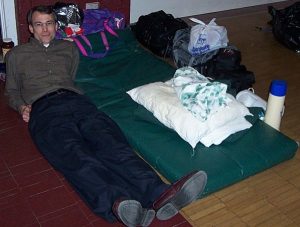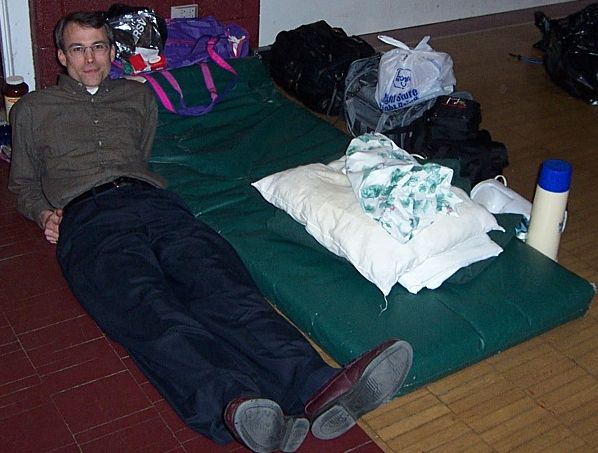 ---
Find help for yourself or a neighbor in need! Learn about our community's Essential Human and Emergency Services, listed here:  Assistance – Meeting Needs, Help for the Needy, Housing Access… www.housingaccess.net ; or, call 734-961-1999, Shelter, Food & Meals, Pregnancy, Child Care, Grief Support after a Miscarriage for Couples,  Healing After Abortion, Mental Health & Grief Support, Hospital Ministry (data), Legal Services, Non-Medical – Private Duty Home Care Services, Assisted Living, Transportation, Clothing, Funerals & Burials, Counseling Assistance, Planned Aging, Financial Assistance, & Money Management.  Also, find Medical Equipment, a Used Medical Loan Closet Resource List with items like: canes, walkers, wheel chairs, bath chairs, & wheelchairs.  Perhaps get started in your search for help by calling our parish office 734-821-2121, or our congregational network at Friends In Deed (FID) 734-484-4357, Mon-Fri 9:30-Noon. http://www.friendsindeedmi.org/resource-guides/
---
We keep our blog with photos at: http://service4justice.blogspot.com/