SUMMER ON THE LAWN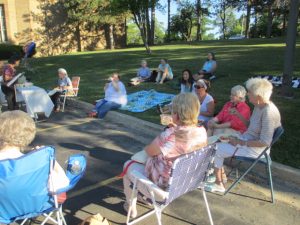 Join Deacon Rich Badics on "The Path of Mary".
What should we do to practice what the Holy Spirit wished to communicate to us through Mary?
Trust God completely – Be humble – Persevere – Rejoice – Show kindness – Live selflessly – Love Jesus
We begin with Evening Prayer in Church at 6:30 pm, and move to the hill above the west parking lot for a talk and summer snacks. If the weather is too hot or stormy, we will move into the Chapel for the talk.
June 29 – Apparitions
July 27 – Our Lady of Mount Carmel & the Brown Scapular
August 24 – Assumption
Let us know if you can make it by registering online or contacting Marty Lucas at mlucas@stfrancisa2.org or 821-2125.