ReConnect Spiritual Challenge: Day 19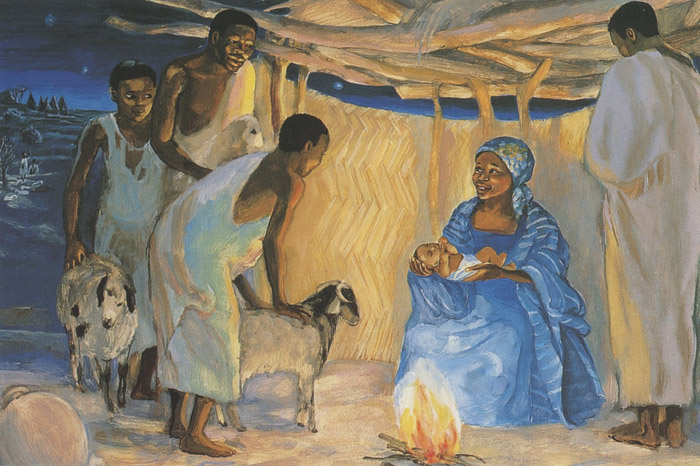 "You, Bethlehem-Ephrathah
too small to be among the clans of Judah,
from you shall come forth for me
one who is to be ruler in Israel;
whose origin is from of old,
from ancient times.
Therefore the Lord will give them up, until the time
when she who is to give birth has borne,
and the rest of his kindred shall return
to the children of Israel.
He shall stand firm and shepherd his flock
by the strength of the Lord,
in the majestic name of the Lord, his God;
and they shall remain, for now his greatness
shall reach to the ends of the earth;
he shall be peace." (Micah 5:1–5)
During Advent, we're accompanied in scripture by several of the great Old Testament prophets who were waiting faithfully and patiently for the Messiah. They believed that what the Lord spoke to them would be fulfilled, just as we wait in faith and hope throughout Advent for the coming of the Christ Child.

The prophet Micah, as in today's first reading, deserves a closer look. His prediction for an Ideal Ruler from the city of Bethlehem is a prophecy that is fulfilled in the birth of Jesus. Micah is often described as a country boy — someone who grew up in a small town with a close connection to the land and the people who worked it. The eponymous book calls out oppression of the poor and corruption in the bigger cities like eighth century B.C. Jerusalem and Samaria. Micah writes how kindness is not a random choice, but a human responsibility as is often quoted: Do justice…love goodness…walk humbly with your God. (Micah 6:8)

The longer version of this passage ties this requirement of acting justly with love and fellowship: "What he requires of us is this: to do what is just, to show constant love, and to live in humble fellowship with our God" (Micah 6:8). In Micah, we see a model of trust in the Lord's saving power, which is beautifully conveyed in 7:7, "But as for me, I will look to the Lord, I will wait for God my savior; my God will hear me!"

Learn more about the wisdom of these great Old Testament prophets! Open your Bible this Fourth Sunday of Advent, and read or re-read the Book of Micah. "Advent's intention is to awaken the most profound and basic emotional memory within us, namely, the memory of the God who became a child. This is a healing memory; it brings hope."–Pope Benedict XVI

Activities:
Choose one to start and explore more as time permits.

1) Resources for Readings at Mass this Fourth Sunday of Advent:
2) Reflections on the Readings:
3) Ideas for Family Activities:
Links to Resources can be found here on the ReConnect: 21 Day Spiritual Challenge,
ReConnect with your faith and community today, tomorrow — and yesterday! If you miss a day, go back and check out all prior challenge days HERE on our website. We are all imperfect children of God, so let's KEEP TRYING! To further reconnect with St. Francis Parish, please contact the parish office at 734-821-2100 or via email parishoffice@stfrancisa2.org. We look forward to reconnecting with you!
Add your email to receive the ReConnect daily emails Dec 1-21 HERE.