ReConnect Spiritual Challenge: Day 13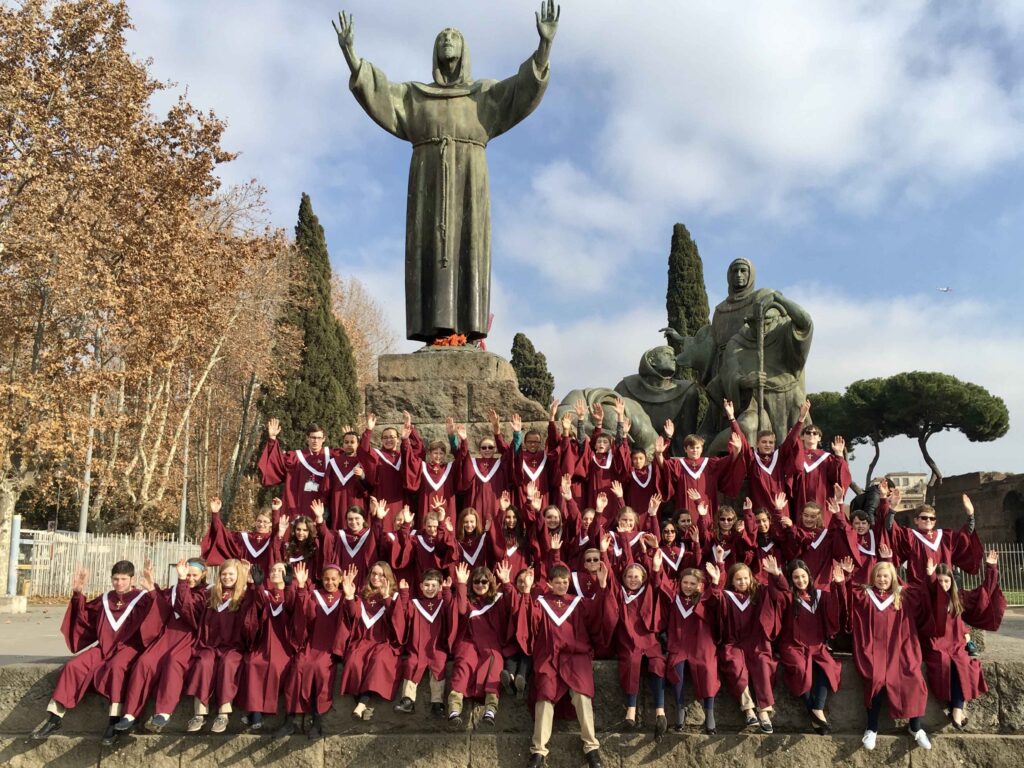 Be the Light of Christ!
Today we celebrate the Feast of St. Lucy, patron saint of Sicily (Syracusa), and patron protector of eyesight and health. She was a martyr during Diocletian's persecutions around 304 A.D. Her veneration spread to Rome over time, so that by the 6th century, the church recognized her courage in the defense of her faith.

In her given name, Lucy or Lucia, we find the Latin root Lux, meaning Light. This is a reference to the Light of Christ that shone in her life through her dedication to God.

An example of that Light occurred when Lucy encouraged her mom to pray at the shrine of St. Agatha. Her mom had been ill for over four years with the same affliction as the woman in Luke's gospel (Luke 8: 43-48). Lucy told her mom the woman had been healed as a sign of her faith after touching the cloak of Jesus. As they prayed during the vigil at the shrine, they fell into a deep sleep. St. Agatha appeared to Lucy in a vision and proclaimed of her coming sainthood. She also declared that through Lucy's dedication and faithfulness to the Lord, her mother would be healed of her affliction. As they awakened, her mom was cured of her illness.

Her association with eyesight, health, and healing are tied to injuries she sustained during her persecution. God, in His glory, restored her eyes and eyesight as a powerful sign of His presence and healing power. Her faith and inner Light continued to shine bright as she proclaimed the good news of the gospel even after being pierced by a soldier's dagger.

Our beloved parish patron saint, St. Francis of Assisi, reminds us about being that Light of Christ through our actions and interactions. He proclaimed "Preach the gospel always and with words if you must!" The opportunity for good works and good examples present themselves daily in our community as we are called to be that Light of Christ with His message of Love, Hope, Charity, Kindness and Salvation.

Christ's Light can take the simplest forms as in greeting a store worker with a sincere "good morning," showing that extra bit a patience with your family members or a service worker when you are in a hurry, calling a friend you haven't seen in a while to ask how they are doing, taking a tag from the parish Giving Tree to brighten a child's Christmas, or helping a neighbor rake their leaves or shovel their snow.

Let's answer the call to be that positive force in our community and make a difference in the lives of those we encounter! St. Lucy, pray for us, our families, and those we love!

Activities:
Choose one to start and explore more as time permits.

1) Attend a 9:15 a.m. daily Mass at St. Francis.

2) Pray and meditate on the prayers to St. Lucy and St. Michael.

3) Visit the Gleaners Food Bank website
to donate.

4) Listen to the inspiring St. Francis of Assisi Middle School Choir on their pilgrimage to Rome for Pueri Cantores, the official international student choral organization of the Catholic Church. Seventy choristers traveled to Rome for the International Federation of Pueri Cantores Congress in 2015-16, under the direction of Mrs. Linda Opaleski. The choir performed this concert at the Basilica di Sant'Eustachio, and sang with choirs from around the world at St. Peter's Basilica for Pope Francis on the Solemnity of Mary, Mother of God. The choir is scheduled to attend the next International Congress in Rome in 2023.

5) Have dinner with loved ones and say Grace before eating.

6) Pray (1) Our Father, (3) Hail Marys and (1) Glory Be for the souls in Purgatory.
Links to Resources can be found here on the ReConnect: 21 Day Spiritual Challenge
ReConnect with your faith and community today, tomorrow — and yesterday! If you miss a day, go back and check out all prior challenge days HERE on our website. We are all imperfect children of God, so let's KEEP TRYING! To further reconnect with St. Francis Parish, please contact the parish office at 734-821-2100 or via email parishoffice@stfrancisa2.org. We look forward to reconnecting with you!
Add your email to receive the ReConnect daily emails Dec 1-21 HERE.