ReConnect Spiritual Challenge: Day 9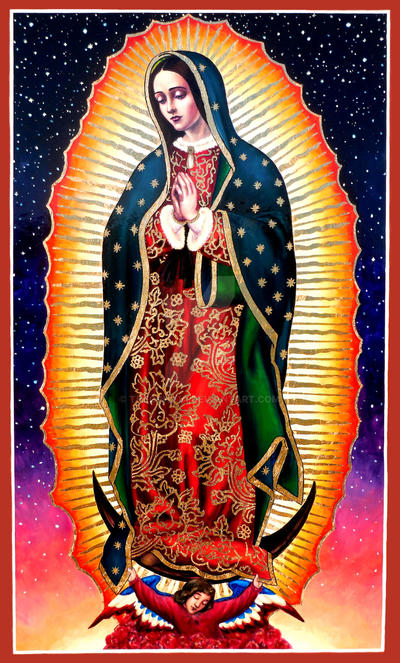 Be not afraid

The First Reading for today begins: I am the LORD, your God…It is I who say to you, 'Fear not, I will help you.' Fear not. (Is. 41:13)

This is the same message Our Lady shared with St. Juan Diego, whose memorial we celebrate today. She reassures him that she has heard the people's lamentations and knows of their affiliations and sorrows. She says to Juan Diego, "Hear me and understand well, my little son, that nothing should frighten or grieve you. Let not your heart be disturbed. Do not fear that sickness, nor any other sickness or anguish. Am I not here, your Mother?"

We need not fear, even when life sends us trials, persecutions, illness, disease, or suffering of any kind, for our hope is in Christ, who has come to redeem the world. Jesus Christ, through the Incarnation, comes into the darkness of our world and through His perfect light casts out all darkness of sin and sorrow (c.f. Jn. 1:5). His perfect love casts out all fear. It is He who takes away the sins of the world and transforms our very lives through the gift of His grace and mercy. God is in control. Be not afraid.

On Dec. 12th, we celebrate the feast of Our Lady of Guadalupe. Her message remains as pertinent today as it did almost 500 years ago. All who seek her intercession will not be left unaided. To this day, millions of pilgrims travel to the Shrine of Guadalupe in Mexico City to seek her intercession. Let us too turn to Mary, and ask her to bring our intentions before Her Son.
Activities:
READ – About the humble man and saint, Juan Diego and the readings for Thursday of the Second Week in Advent

WATCH – "Guadalupe – The Miracle and the Message" For kids, watch cartoon "Juan Diego: Messenger of Guadalupe" also on formed.org If you haven't yet signed up, visit: signup.formed.org. Search for our parish and create a login. It's free to you! (a gift from the parish)

LISTEN – Join your voice with hundreds around the world to pray for Mary's intercession, praying the Salve Regina

ACT – Join with your Hispanic brothers and sisters as we honor Our Lady of Guadalupe, Patroness of America, our patroness, and plead for Her intercession at a special Mass in Spanish on Saturday, Dec. 11th with the celebration starting at 6:30 p.m. at St. Francis of Assisi, Ann Arbor.

SHARE – A message of hope and encouragement with someone. In your prayerful reflections, ask the Lord who in your life needs a supportive friend and reach out to them. Perhaps, share this message, or another that inspires you and consider inviting them to join you in coming to Mass.
Links to Resources can be found here on the ReConnect: 21 Day Spiritual Challenge
ReConnect with your faith and community today, tomorrow — and yesterday! If you miss a day, go back and check out all prior challenge days HERE on our website. We are all imperfect children of God, so let's KEEP TRYING! To further reconnect with St. Francis Parish, please contact the parish office at 734-821-2100 or via email parishoffice@stfrancisa2.org. We look forward to reconnecting with you!
Add your email to receive the ReConnect daily emails Dec 1-21 HERE.