ReConnect Daily Challenge: Day 3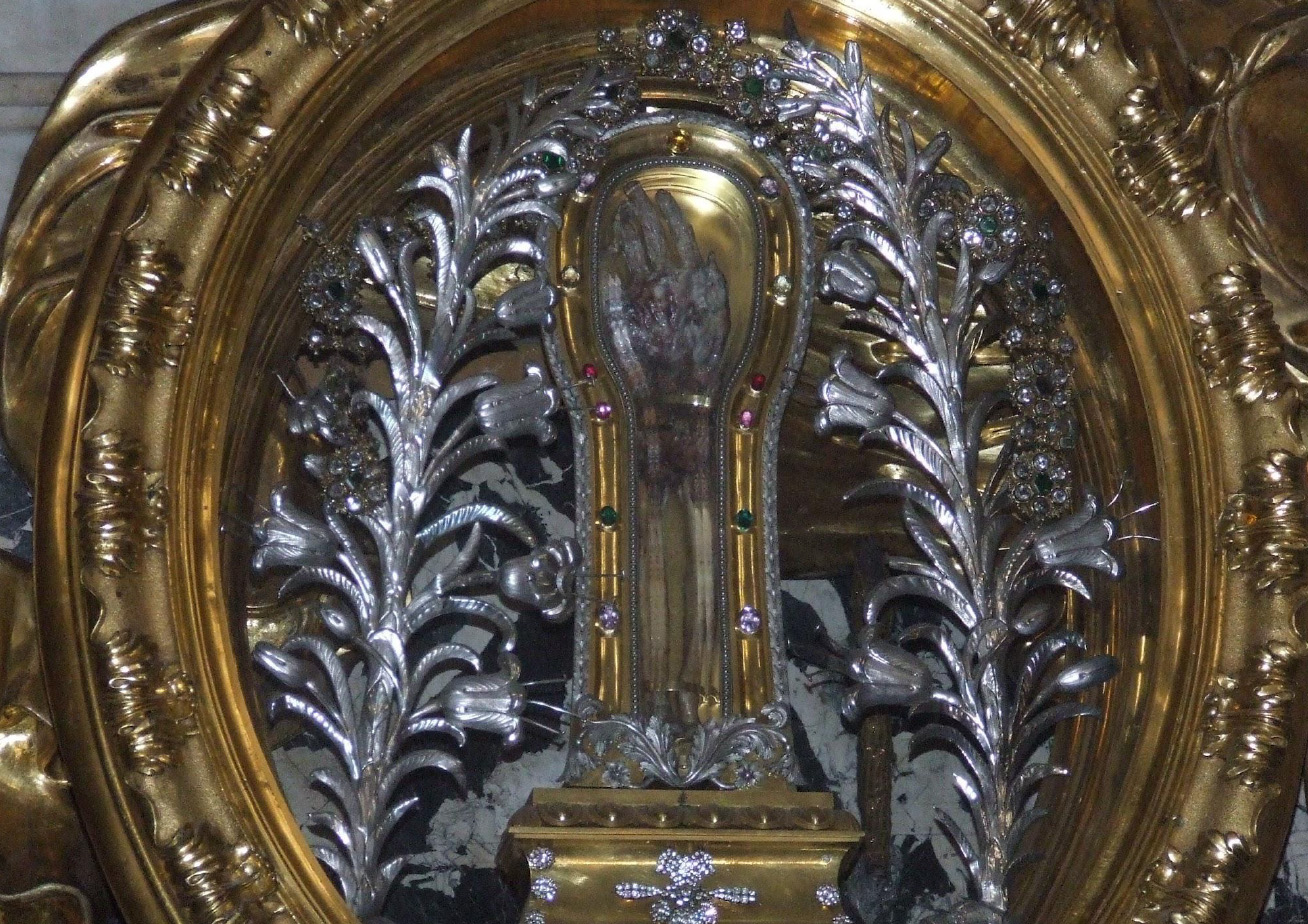 Image: Right arm of St. Francis Xavier, used to baptize and bless thousands. It is venerated in the Jesuit church, Il Gesu, in Rome. Pinterest
Finding Peace: the example of St. Francis Xavier
When Francis Xavier went off to study at the University of Paris, he, like all college students, was aiming for a successful career and a comfortable life. But after conversations with his roommates, Peter Faber and Ignatius of Loyola, Francis changed his mind and decided to follow Christ as one of the first members of the Society of Jesus. When the King of Portugal asked for two Jesuit priests to go to the colonies in India, Francis responded immediately. After a 13 month voyage, he landed in Goa in 1542. In Travancore, which includes modern day Kerala, he baptized 10,000 people in a month. In a letter from January, 1544 he writes that his arm was exhausted simply by administering the sacrament. He later went to Japan, and was going to China when he fell ill and died on an island off the coast at the age of 46.

What would compel someone to leave family and friends and prosperity behind to go to a foreign land where the people speak languages so different than one's own, where there are so many trials, sufferings, persecutions and discomforts?

Is sharing the gospel with those who have never heard it that important? Is it really worth giving up your life?

In a letter written shortly before his departure to India, the last time he would see Europe again, Francis writes:

"I suspect there are some…who would be glad to find peace to their souls, without undertaking this humble and painful life of ours. Whether they will find that peace I know not. It may well be that what they seek where they wish to find it, they will only find at last where they are afraid to seek it, if they ever manage to make up their minds to go there."

We all are looking for peace in our minds, hearts, and souls. But are we looking in the right place? St. Francis Xavier teaches us by his life that peace is found in a life lived for Christ in service to the Gospel.

Activities:
Select one to start and explore more as time permits:
Links to Resources can be found here on the ReConnect: 21 Day Spiritual Challenge
ReConnect with your faith and community today, tomorrow — and yesterday! If you miss a day, go back and check out all prior challenge days HERE on our website. We are all imperfect children of God, so let's KEEP TRYING! To further reconnect with St. Francis Parish, please contact the parish office at 734-821-2100 or via email parishoffice@stfrancisa2.org. We look forward to reconnecting with you!
Add your email to receive the ReConnect daily emails Dec 1-21 HERE.