ReConnect Daily Challenge: Day 2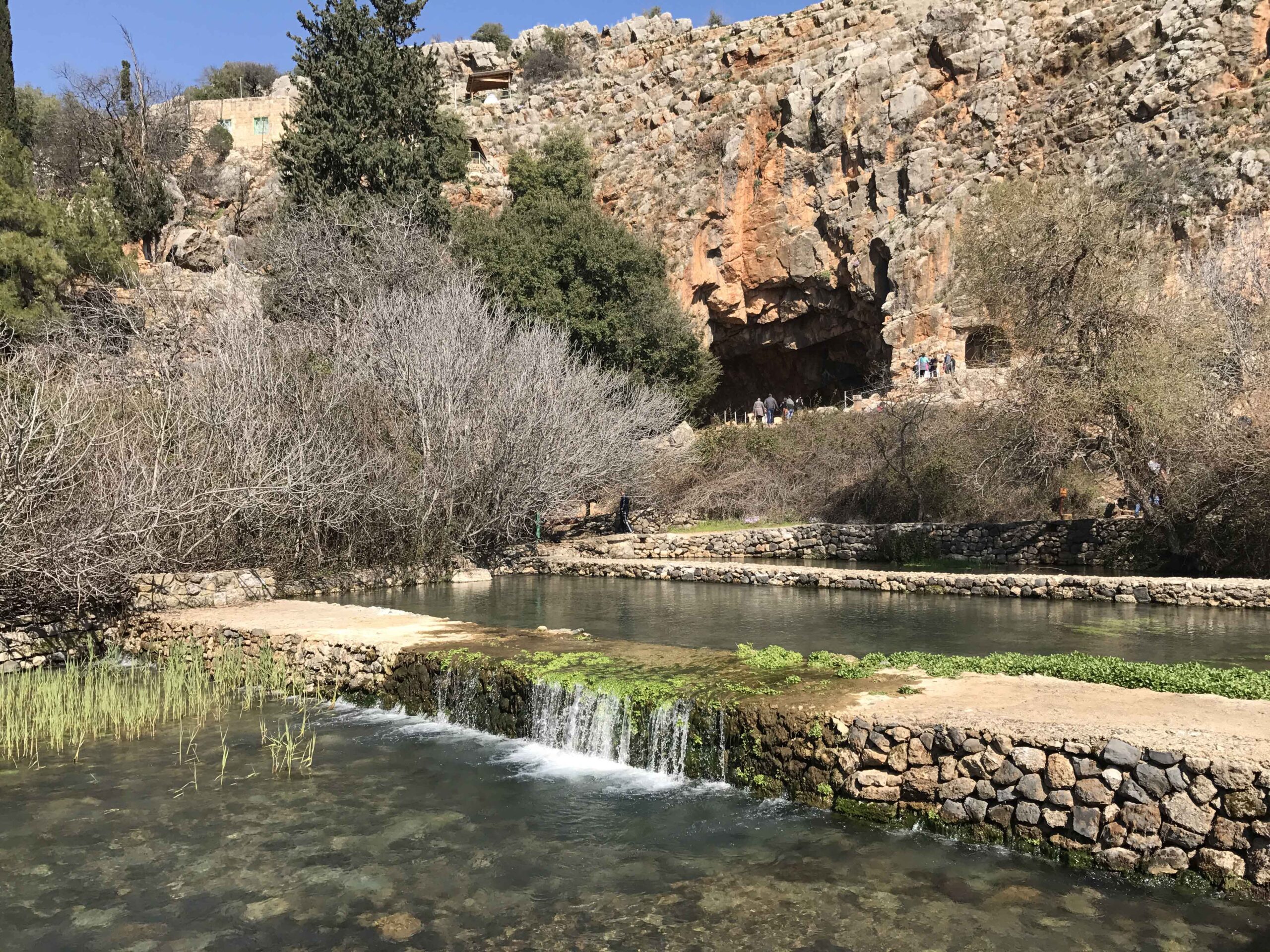 Pictured: Feb 2017 Mt Hermon, Caesarea Philippi, Israel. The site is rich in imagery with the tall commanding rock that, in ancient Roman times was once thought to contain the gates of the netherworld dominated by the Greek pagan god, Pan. Here, it is believed that Jesus founded the Church, declaring, "and so I say to you, you are Peter, and upon this rock I will build my church and the gates of the netherworld shall not prevail against it (Mt 16:18)." The water is one of the head sources for the river Jordan and is rich in symbolism, for so too from the Church flows the life giving graces of Jesus Christ today.

Re-ordering homes and souls to God
Jesus said to his disciples: "Everyone who listens to these words of mine and acts on them will be like a wise man who built his house on rock. The rain fell, the floods came, and the winds blew and buffeted the house. But it did not collapse; it had been set solidly on rock (Mt 7:24-25)."
In this season of preparation for the coming of Jesus Christ, we prepare ourselves for the celebration of the first coming two millennia ago on Christmas. We prepare too for the second coming, both individually, as we all will eventually face the end of our earthly lives, and together in union with the Church, of that day when Jesus Christ will come again in glory.
Today's Challenge:
The Season of Advent is a good time to reflect on the order within our homes. Firstly, let us re-order our physical home, whether it be rented or owned, large or small, a single room, or an apartment, our home is at its best when it is ordered according to our Christian values and priorities. Secondly, let us re-order our souls to God, for our soul is the home of the Holy Spirit, the indwelling of God.
First take a good look at your home and walk through the rooms.
What items are no longer needed, superfluous, or simply clutter up the house? Give them away. What items are distractions from your Christian values and priorities? Are they occasions of sin? Discard them. Are they time-stealers? Find a better place for them in your home, so they will not be distractions toward your heavenly goals.
How does the placement of religious art reflect your Catholic identity? Americans tend to hide their religious selves and unfortunately our homes reflect these secular values. Consider re-positioning the art or obtaining religious art to better reflect your desired spiritual life and Catholic identity.
How do your possessions in your home and their placement reflect Christian hospitality? Do they provide for the gathering of the family for conversations and activities? Do they create a welcoming atmosphere for friends and neighbors?
2. Bless Your Home

Read through the "Blessing of Homes" adapted from Catholic Household blessings and Prayers (NCCB 1988, pp 297-301) and pray the blessing on your home. The prayer for the Blessing of Homes can be found here in English and in Spanish here.
3. Celebrate the Sacrament of Reconciliation (see here for times)
Be aware of your thoughts and ideas for your desired re-ordering of your home (whether you can complete it or not) and then look at your budget. The changes you desire to make in your home to better reflect your Christian values and the places and items that your money is being spent on, can be signposts of areas of needed changes in your life. Note these areas mentally and during Advent, use the opportunity of increased Confession times to rid your soul of those areas that hold you bound or keep you from the freedom that the Lord desires to give you.

Prayer:
Be our shelter, Lord, when we are home, our companion when we are away, and our welcome guest when we return. And at last, receive us into the dwelling place you have prepared for us in your Father's house, where you live forever and ever. Amen.
Links to Resources can be found here on the ReConnect: 21 Day Spiritual Challenge
ReConnect with your faith and community today, tomorrow — and yesterday! If you miss a day, go back and check out all prior challenge days HERE on our website. We are all imperfect children of God, so let's KEEP TRYING! To further reconnect with St. Francis Parish, please contact the parish office at 734-821-2100 or via email parishoffice@stfrancisa2.org. We look forward to reconnecting with you!
Add your email to receive the ReConnect daily emails Dec 1-21 HERE.