ReConnect Spiritual Challenge: Day 17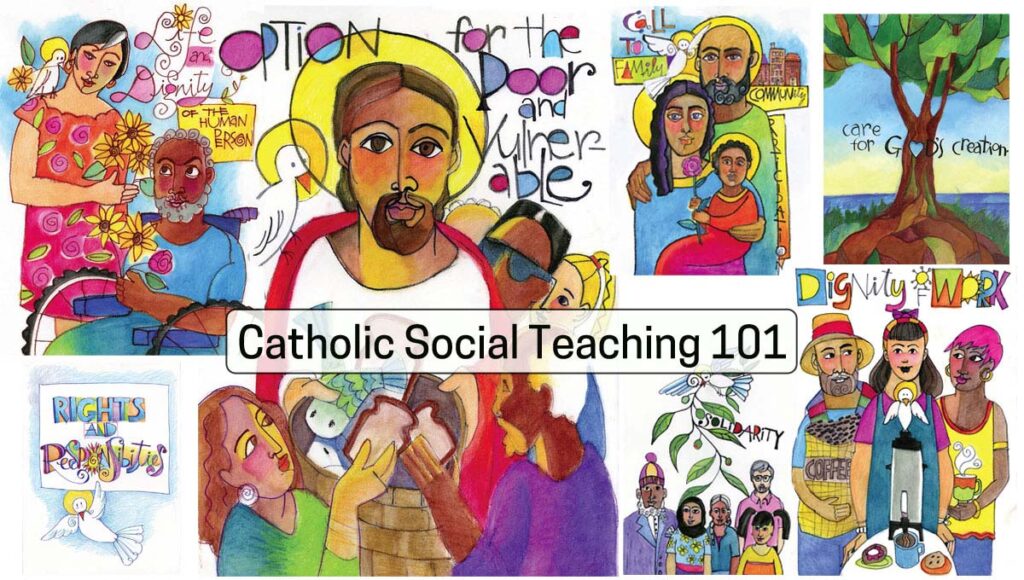 In today's Responsorial Psalm we sing, "Justice shall flourish in his time, and fullness of peace forever." Today's gospel lists the many generations from Abraham to the Christ, in whom is the fulfilment of God's promises to all believers. One may wonder how many of these generations lived in a peaceful time and place, where justice flourished?

St. Francis Parish strives to be a peaceful, inclusive community where everyone is treated with justice and compassion. Jesus offers us guidance in the gospels on how to do this, and the Church offers us guidance in Catholic Social Teaching.

The Diocese of Lansing recently launched a Commission on Catholic Social Teaching (CST). These teachings are meant to help guide us as we navigate the challenges of the secular world, giving us a way to understand and act upon the injustices we see around us. CST is a way to "see and be" in the world. It provides a vision for a just society in which the dignity ofall people is recognized and the poor and vulnerable are cared for.

Activities:
Choose one to start and explore more as time permits.

1) Try some of these activities for children and families.
2) Join the parish Peace & Justice Committee's upcoming book group – we will read and discuss The Church's Best Kept Secret: A Primer on Catholic Social Teaching by Mark Shea. Sign-up Here!!! Or, Contact the parish office for more information.

3) Learn about CST, which really began with Rerum Novarum, the 1891 encyclical in which Pope Leo XIII addresses the conditions of the working class and the rights of workers. The U.S. Conference of Catholic Bishops states, "The Church's social teaching is a rich treasure of wisdom about building a just society and living lives of holiness amidst the challenges of modern society." The USCCB breaks CST into 7 categories: 
4) Examine your conscience before your next confession to consider how you may be contributing to injustice.
5) Identify an issue of injustice that matters to you, then take action: advocate, volunteer, talk to those who are impacted and pray for them, donate to organizations working for change, spread the word.

6) Attend the Posada on Saturday, December 18, following the 7pm Spanish Mass. (That's tomorrow.) This is a reenactment of Mary and Joseph's search for lodging in Bethlehem.

Links to Resources can be found here on the ReConnect: 21 Day Spiritual Challenge
ReConnect with your faith and community today, tomorrow — and yesterday! If you miss a day, go back and check out all prior challenge days HERE on our website. We are all imperfect children of God, so let's KEEP TRYING! To further reconnect with St. Francis Parish, please contact the parish office at 734-821-2100 or via email parishoffice@stfrancisa2.org. We look forward to reconnecting with you!
Add your email to receive the ReConnect daily emails Dec 1-21 HERE.