ReConnect Spiritual Challenge: Day 12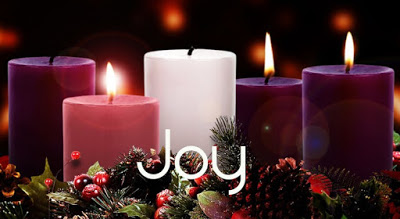 Rejoice
It must have seemed strange to Mary, when the angel Gabriel announced that she would be the mother of the Messiah. Yet, a short while later, although her Son had not yet been born and had not yet accomplished anything of seeming importance, she composed her great hymn of praise, the Magnificat:

"My soul proclaims the greatness of the Lord, my spirit rejoices in God my Savior" (Luke 1:4)

During each Sunday of the Advent season, we focus on one of the four virtues Jesus brings us: Hope, Love, Joy and Peace. The 3rd Sunday of Advent is also known as "Gaudete" Sunday, for the Latin word for "Rejoice." The third Advent candle color on the wreath is pink (rose). It is also called the shepherd candle or candle of joy. The pink color represents rejoicing and reveals a shift in the season of Advent away from repentance and toward celebration. We rejoice on this Sunday for all the good that God has done! The Church also invites us to lift up our heads and rejoice in all that God has yet to do!

December 12th is also when we would ordinarily celebrate the Feast of Our Lady of Guadalupe, Patroness of the Americas, when Mary appeared in a special way to St. Juan Diego, and it is especially fitting to ask for her intercession on this "Rejoice" Sunday.

"Rejoice in the Lord always. I shall say it again: rejoice!" (Phil 4:4)

Activities:

1) Read today's Gospel Readings

2) Pope St. John Paul II started a custom of blessing Christ Child figurines, called bambinelli on the 3rd Sunday of Advent.
3) Listen to this recording of the traditional Gregorian entrance chant (or introit in Latin).

4) Children may desire to color the image of Our Lady of Guadalupe, pictured on a tilma held by St. Juan Diego, using this printable coloring sheet.

5) Pray a decade of the Rosary while viewing this photograph of the original image of Our Lady of Guadalupe

Links to Resources can be found here on the ReConnect: 21 Day Spiritual Challenge
ReConnect with your faith and community today, tomorrow — and yesterday! If you miss a day, go back and check out all prior challenge days HERE on our website. We are all imperfect children of God, so let's KEEP TRYING! To further reconnect with St. Francis Parish, please contact the parish office at 734-821-2100 or via email parishoffice@stfrancisa2.org. We look forward to reconnecting with you!
Add your email to receive the ReConnect daily emails Dec 1-21 HERE.