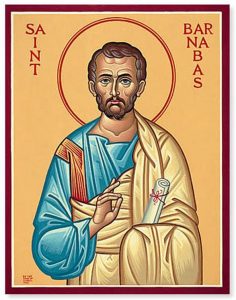 June 11 – Feast Day of St. Barnabus: Watch over our Parish Rummage Sale
Barnabas is mentioned by name as one of the generous members of the idyllic and extremely poor Church in Jerusalem: "The community of believers was of one heart and mind, and no one claimed that any of his possessions was his own, but they had everything in common . . . There was no needy person among them, for those who owned property or houses would sell them, bring the proceeds of the sale, and put them at the feet of the apostles, and they were distributed to each according to need.                                                                      americancatholic.org
We invite you to join us in our community service project this week June 10-16, 2018.
Drop off your household goods/donations June 9-12, 2018.
Join our volunteer efforts in helping to sort June 10-13 and sell June 14-16, 2018.
Gather with old friends and make new friends.
(Read Acts 2:43) Reverential awe came over everyone, and many wonders and miraculous signs came about by the apostles. 44 All who believed were together and held everything in common, 45 and they began selling their property and possessions and distributing the proceeds to everyone, as anyone had need.
or email susanczill@gmail.com or phone (734)944-0505
---
Recycle Your E-Waste!
Bring Your Electronics to St. Francis School Gym
on Saturday, June 16, 2018, @ 11am – 3pm
If it plugs in or runs on batteries, recycle it! They also accept VCR tapes, audio tapes, DVDs, CDs, chargers/cords/cables/wires, video games, car batteries, phones, office equipment, metals and metal fixtures, power tools, etc.
---