Prayer Requests, Mass Cards & Intentions
We should never underestimate the power of prayer and the support that we are given knowing that others are praying for us.  If you have a Prayer Request, we invite you to enter it below. For the next three weeks, your request will be remembered in prayer by the homebound members of our parish. They have made this their special ministry.  Remember, no one is alone in this world. We support one another in our prayer.  Prayer Requests Form here. 
"The grace of mutual love among the living, strengthened and increased by the sacrament of the Eucharist, flows, especially by virtue of the Sacrifice [of the Mass], to all who belong to the communion of saints." 
– Mirae caritatis Pope Leo XIII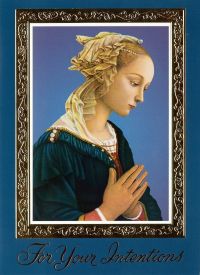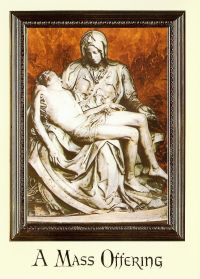 What is a Mass card or Mass intention and how are they used?
A Mass card, also known as a Mass offering card, memorial card or a remembrance card.  It is an ornate greeting card given to someone to let the recipient know they, or a deceased loved-one, will be remembered and prayed for in the intentions during a specific St Francis Mass.
For what occasions is a Mass card or Mass intention given?
Most commonly a Mass card or intention is given for the repose of a departed soul. The saints and early church fathers spoke of remembering the dead at the Mass, and encouraged the faithful to pray for those who had died. Wedding anniversaries, birthdays, Mothers & Fathers Day and Christmas/Easter are also popular occasions for offering Mass, and any time when you have a particular intention to offer.
---
Offer a Mass Intention for a Loved One — Living or Deceased
You may request a Mass offering by calling (734-821-2100) or stopping into our Parish Office (2150 Frieze Avenue). The intention may be offered for living or deceased persons, and a small gift is payable. A Mass card may be requested so that you may send it to the person, or their loved ones, for whom the Mass is being offered.
---
Light Our Prayer Lamp for a Special Intention
The light shines in the darkness…
One of the first things many visitors notice when they enter a Catholic Church is the Sanctuary Lamp – the lamp that hangs close to the tabernacle indicating that Christ is truly present in the Eucharist. Our Sanctuary Lamp traditionally hangs on the left side of the sanctuary. Many are aware of it; some have never noticed it. To place greater emphasis on the Lamp and its significance, several years ago we placed another freestanding Lamp closer to the Tabernacle – our Prayer Lamp. This lamp offers an opportunity for our parishioners to have it burn for a particular intention. This Prayer Lamp underscores our belief in the reality of Christ's enduring presence through the Eucharist. Scripture tells us that he is our great High Priest who offers prayers and supplications for us before the Father. If you would like our Prayer Lamp to burn for a particular intention or in honor of a loved one, living or deceased, contact the Parish Office (734-821-2100). A small gift is payable, and the Prayer Lamp will burn for one week for your intention.
---
Light Our St. Joseph Candle in Memory of a Deceased Loved One
On the wall nearest the East entrance of our Church hangs an icon of St. Joseph, Patron of the Universal Church and Patron of a Happy Death. You are invited to light the candle that is on a shelf next to the icon in memory of a deceased loved one. You may call (734-821-2100) or visit the Parish Office (2150 Frieze Avenue) to request that the candle be lit. A small gift is payable, and the candle will burn for three days — Friday through Sunday.
---
Light a Votive Candle at Our Holy Family Shrine
You are invited to light a candle at our Holy Family Shrine for a special intention. The candle burns for four hours, and a free will donation may be placed into the wooden box located on the prayer rail. You are then invited to kneel and spend some quiet time in prayer before the Holy Family.
---
Add a Special Intention to Our Prayer Wall
At the top of our Prayer Wall, the following words are inscribed: "Lord, hear our prayer; Deus, exaudinos; Señor, escúchanos." This beautiful inscription, in English, Latin and Spanish, asks Our Lord to hear our prayers. You are invited to take a blank prayer card, write your intention(s) on the card and place it into one of the prayer pockets. Your intention will then be prayed for at all of our Masses over the course of the following two weeks.
---
---
Parish Office Map and Contact Information
Worship Schedule and Mass Times