Prayer Requests, Mass Cards & Intentions
We should never underestimate the power of prayer and the support that we are given knowing that others are praying for us.  If you have a Prayer Request, we invite you to enter it below. For the next three weeks, your request will be remembered in prayer by the homebound members of our parish. They have made this their special ministry.  Remember, no one is alone in this world. We support one another in our prayer.  Prayer Requests Form here. 
"The grace of mutual love among the living, strengthened and increased by the sacrament of the Eucharist, flows, especially by virtue of the Sacrifice [of the Mass], to all who belong to the communion of saints." 
– Mirae caritatis Pope Leo XIII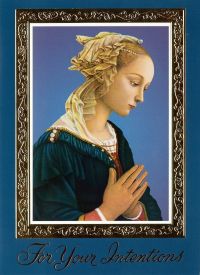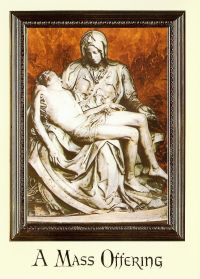 What is a Mass card or Mass intention and how are they used?
A Mass card, also known as a Mass offering card, memorial card or a remembrance card.  It is an ornate greeting card given to someone to let the recipient know they, or a deceased loved-one, will be remembered and prayed for in the intentions during a specific St Francis Mass.
For what occasions is a Mass card or Mass intention given?
Most commonly a Mass card or intention is given for the repose of a departed soul. The saints and early church fathers spoke of remembering the dead at the Mass, and encouraged the faithful to pray for those who had died. Wedding anniversaries, birthdays, Mothers & Fathers Day and Christmas/Easter are also popular occasions for offering Mass, and any time when you have a particular intention to offer.
There is a suggested donation of $10 for each mass. The card giver can present the card or have the parish mail the card directly to the recipient. The Mass card will let the recipient know, the date and time that he or she or a deceased family member, or some other intention, will be prayed for at Mass.
To schedule a mass intention and obtain a Mass card…
visit or contact our Parish Office, or send your request in the U. S. Mail by including in your envelope:
the name of the intention, or, the name of the person, and indicate if they are living or deceased,

any possible suggested or desired date(s) (only if available), and

a $10 donation check to St. Francis of Assisi Parish, 2150 Frieze Ave., Ann Arbor MI  48104.
Parish Office Map and Contact Information
Worship Schedule and Mass Times