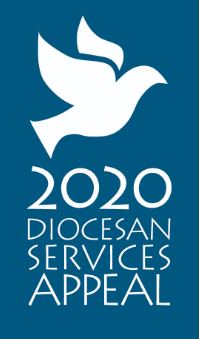 Every Sunday throughout Lent the St. Francis community will hear about a different aspect of the impact of DSA throughout the Lansing Diocese.
PLEASE NOTE: Due to the COVID-19 threat, our March 15th-March 29th guest speakers have been cancelled. Please see the linked websites to learn more about the weekly DSA support topics.
March 1st- Invitation: Letter from Fr. James and Bishop Earl Boyea Video
CLICK HERE to read Fr. James's letter sent out to all St. Francis families announcing the launch of the 2020 Diocesan Services Appeal Campaign and the goal for our parish.
CLICK HERE to view the video of Bishop Boyea's message on the importance of the 2020 DSA campaign shown on the First Sunday of Lent.
March 8th- Seminarian Support: Dcn. Michael Cassar
CLICK HERE to view the video from the Second Sunday of Lent. Deacon Michael Cassar, a transitional Deacon for our diocese, preached at the Masses about DSA support for seminarian training. Deacon Michael was born in the Ann Arbor area with his two siblings. He joined St. Francis of Assisi while a student at Eastern Michigan University He has just completed his fifth year of seminary at Sacred Heart Major Seminary and serves as a deacon to St. Mary, Pinckney.
March 15th- Flint Area Mission: Dcn. Sean Costello
CANCELLED-Please learn more about Diocesan Flint aid here:
https://www.dioceseoflansing.org/faith-in-flint
On the Third Sunday of Lent we will hear from Deacon Costello from Flint. He will be coming to St. Francis to speak about how DSA support helps parishes in Flint, many of whom have suffered severe financial hardships. These sister parishes are part of the Diocese of Lansing. Deacon Sean and his wife, Elisa (Ely), have been blessed with four children. Sean is the chair of the theology department at Powers Catholic High School in Flint and the chief of staff for the Catholic Community of Flint. He serves at St. Matthews of Flint. Check back soon for a video.
March 22nd- Parish Assistance: Robert Kehn
CANCELLED-Please learn more about DSA Parish support here:
https://www.stfrancisa2.com/wp-content/uploads/2020/03/RobertKehn_DSA.pdf
On the Fourth Sunday of Lent Robert Kehn, the St. Francis of Assisi Business Manager, will be presenting at the Masses. He will help explain the services that our parish receives from the Lansing Diocese. These services are funded in part by our DSA contributions and include help with accounting, financial, Human Resources, and legal services. Check back soon for a video.
March 29th- Catholic Social Services: Peg Bravo
CANCELLED-Please learn more about Catholic Social Services here:
On the Fifth Sunday of Lent we will hear from Peg Bravo, President and CEO of Catholic Social Services of Washtenaw County (CSSWC), and other St. Francis parishioners who serve on the CSSWC Board of Directors. The CSSWC is located on 4925 Packard Street here in Ann Arbor. They provide a multitude of services including mental health and substance abuse treatment, domestic violence intervention services, behavioral health counseling, marriage preparation, and much more. Peg Bravo joined Catholic Social Services of Washtenaw County in April 2018. Prior to that, Peg served as a registered nurse and in healthcare management roles for over thirty years. She also serves on the Saint Joseph Mercy-Chelsea Board of Directors. Check back soon for a video.