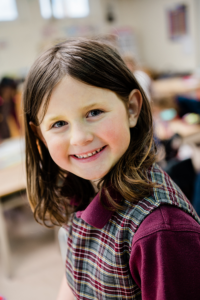 Diocese of Lansing Educational Policy 
The schools of the Roman Catholic Diocese of Lansing are fully committed to a policy of equal opportunity. Educational policies, admissions policies, scholarship and loan programs, athletic and other school programs and activities, employment policies and contractual agreements will be administered without illegal discrimination on the basis of age, sex, religion, familial or marital status, race, disability unrelated to the ability to perform, national origin, color, height, weight, or status in any group protected by state or federal law.
It also states that no child, regardless of religion, shall be denied admission if the school possesses the capacity for additional enrollees. Non-Catholic children do take part in our Religion curriculum and attend Mass.
It is the intention of St. Francis School to serve members of St. Francis Parish and the wider community. Since the total school enrollment is limited by facility size and policy on class size, the following admission policy was formulated.
Children will be admitted to St. Francis School in the following order:
1. Children currently enrolled in St. Francis School
2. Siblings of child/ren currently enrolled in St. Francis School
3. Children of registered St. Francis Parish members not currently in St. Francis School
4. Children from other Catholic parishes who do not have a child/ren in St. Francis School during the current school year
5. All other children
While we will follow these procedures and our Admission Policy to the best of our ability, situations may create inconsistencies that require administrative discretion.  In order to build community, the principal prefers to meet the parents and students upon admission – parents are the main advocates for education, as a team we work together with the student to ensure academic excellence.
Kindergarten Students
St. Francis follows the state guidelines, in that a child must be five years old by October 1 to be eligible for Kindergarten.
New Students
New students entering St. Francis School are placed on a probationary period for one semester.
---