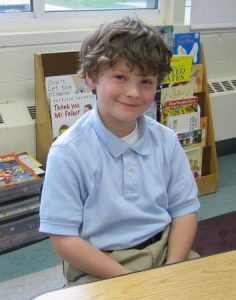 Our Philosophy
Our mission in second grade is to give students a desire to learn. We strive to create a loving and inviting atmosphere where the children can learn to express themselves in all they do. We create a safe environment to enhance each child's spiritual, physical, emotional and academic growth. We also hope to inspire and motivate each child to believe in themselves and strive to do the best they can with each life experience.
Second-Grade Curriculum
St. Francis offers a strong and varied academic curriculum for second grade students.
Religion: Our students are prepared for two sacraments using the Faith First series. A strong formation of faith develops with the Sacrament of Reconciliation. We continue to build that faith as they prepare to receive Jesus in their First Holy Communion.
Reading: Much focus is placed on the reading program in second grade. Students are exposed to many different forms of literature. They are given the opportunity to work in small- and large-group settings to help build strong reading habits. Second graders are encouraged to read, read and read some more!
Phonics and Spelling: A strong phonics-based program produced by Modern Curriculum Press is used to develop skills necessary for reading. The Zaner-Bloser spelling program reflects the skills introduced weekly in word lists.
Language Arts: Within our language arts curriculum, students are given many opportunities to learn the steps of the writing process. We use the Write Source text and incorporate many lessons of grammar to help build sentence structure and facilitate the flow of students' writing.
Handwriting: While manuscript is the major focus of mastery, second graders are introduced to cursive writing later in the year. Using the Zaner-Bloser text, letter formation, slant and flow are introduced.
Math: Our math curriculum covers many areas throughout the year using the Macmillan McGraw-Hill's Math Connects. We continue to build the children's knowledge of basic addition and subtraction with regrouping two- and three-digit numbers. Money, time, measurement and probability are also taught within the year. Hands-on activities are essential tools used in the development and mastery of these skills.
Science: Knowledge in life science, physical science, and earth science is developed throughout the year. Participation in the Science Fair gives students the opportunity to use the scientific method in predicting conclusions to their experiments.
Social Studies: The Scott Foresman series, People and Places, introduces our students to community life and takes us to places all over the world. Students participate in a wide variety of activities to stimulate their knowledge of economics, geography and citizenship.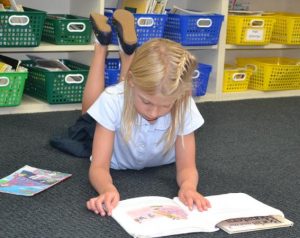 Enrichment
Specials and enrichment opportunities enhance the second grade core curriculum.
Spanish: Spanish is taught to all St. Francis students. Second grade continues to build vocabulary skills and develops beginning reading, writing and conversation skills as well. Students also learn about the Hispanic culture and Catholic faith with short prayers, songs and traditions.
Specials: Each week our second graders take part in art, music, physical education, computer and library classes. They also benefit from additional enrichment in the form of special assemblies, field trips and programs, which vary from year to year.