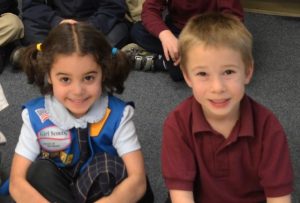 Our Philosophy
Welcome to the St. Francis School kindergarten program!  We are pleased that you have considered St. Francis School for your child.  Our program continues to nurture the Catholic values instilled at home.  Parents and teachers work cooperatively to build a partnership between home and school.
Our kindergarten students will increase their knowledge of the world around them through a balance of academic and social learning.  We will help each child grow and prepare for a successful school experience.
Children will learn both formally and informally through a wide range of activities.
Early elementary social skills that our program targets for development include the following:
Respect for and acceptance of others
Taking turns and sharing
Conflict management
Listening to others
Working independently in large and small groups
Following directions and rules
Caring for self
Self control and personal responsibility
Confidence
Perseverance
Critical thinking skills
Making good choices
Kindergarten Curriculum
Religion
The religious education program for kindergarten children is designed to support parents in educating their children about the Catholic faith.  The children are taught that they are unique and that God has given each of them special gifts and talents.  They learn to follow the way of Jesus by being kind to others and by treating their classmates and adults with respect.  They learn spontaneous prayer as well as formal prayers that are said every day in class.  Kindergarten students also participate in the school-wide Eucharistic Adoration and prayer services.  In addition to the formal Faith First program, the children learn about the lives of saints (St. Francis, St. Patrick, patron saints, etc.), Mary, the Mother of God and simple Bible stories.  There are special projects during Advent and Lent that encourage the students to do good deeds for others.  The children also learn about the importance of stewardship.  Faith development is a process that is started at home and reinforced at school by encouraging students to help others, take turns, listen and care for other people.  Teachers provide a warm, loving environment where everyone is accepted as a special child of God.  For the second half of the year, students will attend Mass with the entire school.
Learning Centers
Learning centers are designated areas in the classroom where the teacher selects the materials and designs open-ended activities for the children. The students choose various hands-on activities and work individually or in small groups. Focus areas are literacy, math, science, social studies and higher-level problem solving.
Phonics/Spelling
Kindergarten has adopted a program titled: CR Success Early Literacy (formerly known as the F.A.S.T. Early Literacy Program).  It is a research-based program that provides direct instruction in the five essential components of reading: phonemic awareness, phonics, fluency, comprehension and vocabulary. It also has specific instruction in spelling and handwriting. Its unique characteristic is its holistic integration of phonological skills, systematic phonics and language-based instruction. It includes a comprehensive scope and sequence, summative and formative assessments and the use of active, multisensory learning.
The CR Success Readers are an integral part of the program. These decodable books are sequentially written and are leveled by reading complexity (Lexile levels).
Phonemic awareness is reinforced through the use of Michael Heggerty and constant sequential modeling.
Reading
Reading is taught with a formal phonics and writing program that gives each child a variety of oral language and literature experiences. The children are grouped according to specific skills needed, interests and abilities.  While the teacher works with guided reading groups, the rest of the class visits the centers including the reading and writing centers to reinforce the lesson they had with the teacher. Individual books are provided to each student.  The teacher guides students through their individual books.  This helps lay the foundations for independent reading.
Handwriting
The children learn the proper position to use while writing. Not only do they learn how to sit, they also learn the way to position the paper and the proper way to hold the pencil. They begin by practicing vertical, horizontal and slanted lines, and then practice making backward and forward circles. The children learn to write both uppercase and lowercase letters of the alphabet. Later in the year, students begin to write words and sentences. The kindergarten children are taught to write their first and last names, using uppercase and lowercase letters. They also learn the proper way to write numerals from zero to twenty.  Handwriting is aligned with the CR Success Early Literacy program.
The Writing Process
Kindergarten children learn that letters were developed to spell sounds.  They learn how words and sentences are formed and how to write left to right and top to bottom.  The students learn to use uppercase letters to begin a sentence and when using a proper noun.  They learn when to use a period, question mark and exclamation point.  The teacher provides interactive writing daily with modeling.
Mathematics
Our formal text for math is Macmillan McGraw-Hill.  The scope and sequence from the book is used along with other resource materials aligned with core concepts, hands on activities, explanation and student application.  A math journal is also used on a daily basis to reinforce math concepts in a creative way.  Kindergarten uses math instruction that exploits the critical stages of cognitive growth in children.
Science
The Macmillan/McGraw Hill curriculum is used in kindergarten. It is divided into three sections: Life Science, Earth and Space Science and Physical Science.
Life science is the study of living and non-living things, as well as plants and animals.  Our study of physical science covers the topics of matter, sound, heat, light and movement. While studying earth science, the children learn about land, water, earth, sky, weather, the four seasons and the solar system. Conservation, recycling and responsibility for caring for our earth are strongly integrated throughout the year.
Students do simple science experiments throughout the year that provide hands-on experience within each of the disciplines.  Natural curiosity is encouraged and the children are taught to respect all life.  Students visit the science lab often during the school year.  The scientific process is taught and students learn the value of the process.
Technology
Kindergarten students will use part one of the Technology Education series by Structured Learning. All students use the computer lab on a weekly basis. They learn to turn the computer on and off, the parts of the computer, and various mouse skills such as click, press, and drag. Later in the year, Kindergarten children are introduced to very basic keyboard skills as they learn how to type their name, simple words, and sentences that describe pictures they have created.
Social Studies
In the social studies curriculum, Celebrate Freedom, by Scott Foresman, children begin to learn about their families, homes and communities. They learn how to get along by solving problems and why we have a need for rules. We learn about neighborhoods and why maps and signs are necessary. We study community helpers and learn their various jobs. Parents are encouraged to join the class and share their work experiences with the students. The kindergarten students discover that people have several basic needs such as shelter, food and clothing. The concept that people work to earn money to take care of themselves and their families is also presented.
In alignment with the science curriculum, conservation is also studied in the social studies curriculum. Students learn about forests, mountains, plains and oceans and why it is important to care for these great gifts from God. The children learn about the globe, and how to use it to locate different countries and bodies of water that are found on the land we share with others. They also become familiar with maps of the United States and the world. National symbols are taught and we study famous Americans and learn about national holidays. Various cultures are recognized and embraced as we learn to accept differences among people and nations.
Integrated with our formal social studies curriculum, children are introduced to the Core Democratic Values. These are the fundamental beliefs and constitutional principles of American society. These values are expressed in the Declaration of Independence, the United State's Constitution and other significant documents, speeches and writings of our nation. These values are Life, Liberty, the Pursuit of Happiness, Common Good, Justice, Diversity, Equality, Truth, Popular Sovereignty, Patriotism, Rule of Law, Separation of Powers, Representative Government, Checks and Balances, Individual Rights, Freedom of Religion, Federalism and Civilian Control of the Military.
Spanish
Students become acquainted with the Spanish language through fun, entertaining activities with puppets, music, picture cards, stories, skits, projects and vocabulary games. Learning about countries and cultures of Latin America and Spain are also part of the Spanish program.
Specials
Kindergarten students participate in specials for at least the following:
Music: 30 minutes (twice a  week)
Physical Education: 30 minutes (twice a week)
Art: 60 minutes
Computer: 30 minutes
Library: 30 minutes
Spanish: 30 minutes
Physical Education
Children participate weekly in gym class to develop their locomotor and non-locomotor skills.  Physical fitness is improved through activities and playing games. Cooperation and sportsmanship are encouraged and children learn to work cooperatively as a team.
Art
In weekly Art classes, the developmental approach is used as children learn about colors, shapes and various kinds of lines. They develop skills such as cutting, pasting and learning to mix primary colors to make secondary colors. In addition to various other mediums, they learn to work with clay.  The children are introduced to various artists and their specific styles. Several of their works are displayed in the school art show in May.
Music
Kindergarten also attends weekly music classes where they actively learn music concepts and aesthetics through creative movement, listening activities, singing, playing simple instruments and performing rhythm activities. Beginning notation and composition is experienced through the Orff and Kodaly methods. The kindergarten children also perform in our annual Christmas program.
Library
Once a week the children go to the library. They learn how to check out books as well as the proper way to take care of books. The children learn about authors, illustrators and publishing companies.
The enrichment program is supplemented with a field trip to a local theater production in the spring. This also supports a specific author study from the language arts program.