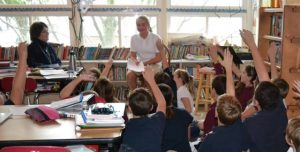 Our Philosophy
Sixth grade at St. Francis is a time of transition. Students not only move "upstairs" to the middle school, they also spend more time examining their personal morality, values and relationships. It is the perfect opportunity for students to recognize how Jesus can guide them through this rapid period of growth and change. By integrating Catholic faith lessons into every subject area, we try to help sixth graders develop healthy hearts, minds and bodies.
Our sixth graders flourish in a nurturing climate where they feel respected and confident enough to try out new challenges and ideas. Our educational program reflects a challenging curriculum, professionally-certified instructors who have a passion for teaching, motivating lessons, multi-sensory activities and high expectations. Our students are given many opportunities to think and write critically and to solve relevant problems. The St. Francis Middle School is a place where students strive to fulfill their potentials!
Sixth-Grade Curriculum
St. Francis School offers a strong and engaging academic program for students in their first year of middle school.
Religion: Sixth graders become familiar with the books of the Old Testament and learn from the successes and failures of their Biblical ancestors. Our spirit-filled program includes weekly Mass, daily prayer and singing, drama, classroom liturgies, service projects and experiences and Scripture study. Students also participate in Second Step, a program that teaches empathy, bullying prevention, emotion management, problem solving and substance abuse prevention. As students learn how to make moral choices, they come to realize how important it is to have Jesus at the center of their lives!
Math: Various learning experiences — relevant math games, demonstrations, mental math, manipulative work and lectures — reinforce Glencoe McGraw-Hill's Math Connects text. Accelerated Math is also integrated into the weekly curriculum. Concepts covered include ratio, proportion, percent, probability, decimals, fractions, geometry, integers, algebra and statistics.
English: Our sixth-grade English program focuses on grammar and mechanics, composition and vocabulary. English and Write Source, textbooks by Houghton Mifflin, are used as the basis of lessons as well as daily writing opportunities and longer writing projects.
Literature: Sustaining a love of reading is an important facet of our sixth-grade literature curriculum. Students learn to read critically, analyze literature and expand their vocabularies. Students engage in independent reading logs, projects, simulations, literature circles, Socratic discussions and reader's theater throughout the year. In addition, the sixth graders study, produce and perform a Shakespeare play every spring.
Social Studies: Sixth-grade students learn about "culture" by exploring civilizations from prehistory through the Renaissance. Highlights include immersion activities such as an archaeological dig simulation, Greek assembly debates, reconstruction of Stonehenge, Roman chariot races, a virtual trip to Renaissance Florence and more. World geography and a formal research paper are also major components of the curriculum.
Science: Project-based inquiry science is at the heart of the sixth-grade earth science program. Students "do what scientists do" by investigating, exploring, designing, researching, testing, analyzing, collaborating and sharing. Using the It's About Time science curriculum, students study physical geology, astronomy and weather.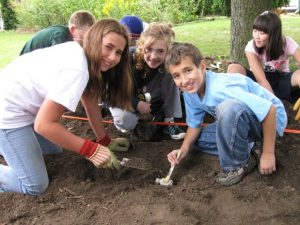 Enrichment
Our sixth graders participate weekly in art, band, physical education and Spanish classes, taught by our enrichment teachers. They visit the computer lab and library once a week with their homeroom teachers. Many field trips, guest speakers and service opportunities also make up an important part of our sixth-grade year.
Service and Leadership
Service and leadership enrich the spirit.
In addition to participating as altar servers and singing in the choir, sixth-grade students also perform other community services throughout the year. Examples of past service projects include:  partnering with residents at long-term care facilities, picking invasive species at local parks, sorting and packaging food at Food Gatherers and serving meals at the Salvation Army.