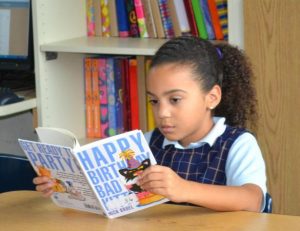 Our Philosophy
Our St. Francis School Elementary program continues to nurture the Catholic values instilled at home while providing students with a strong academic curriculum. Students learn about God's love through daily religion lessons, classroom experiences and schoolwide events (prayer services, service projects, and the like). Parents and teachers work cooperatively to build a partnership between home and school.
A strong core academic curriculum is the main focus of third grade. In addition to the core curriculum, wide ranges of instructional methods are offered to help students learn both formally and informally.
Third grade incorporates the Catholic faith into each day's program to provide a basis for personal team growth. Our philosophy is to recognize positive behavior on an individual and group basis. We believe it is important to reward students when they are behaving well and to provide consequences when responsibility is lacking. We focus on:
Respect for others
Following directions and rules
Responsibility for one's own actions
Third-Grade Curriculum
St. Francis offers a strong and varied academic curriculum for third grade students.
Religion: Catholic faith is taught daily with the assistance of a text book, Faith First, which encourages the lessons and lifestyles that Catholics should practice. In addition to classroom prayer and teacher guidance, the text provides a historical perspective on the Catholic faith.
Math: We practice a hands-on approach for learning math skills with the help of manipulatives and games. Topics in our Macmillan McGraw-Hill, Math Connects text include adding and subtracting whole numbers and money, geometry, multiplication and division, fractions, decimals and linear measurement.
Phonics and Spelling: A strong phonics-based program is used to develop and solidify skills necessary for reading. The spelling program reflects those skills to provide greater opportunities for mastery. Students use Zaner-Bloser's Spelling, which gives them a chance to expand vocabulary and learn spelling strategies that they can apply to both familiar and unfamiliar words.
Reading: We work to develop a more in-depth understanding of literature through structured literature circles and guided reading sessions with novels and classroom readers. Reading instruction consists of developing vocabulary, comprehension of material read and appreciation of various types of literature.
Handwriting: All third-grade students receive instruction in cursive handwriting and are given ample time to practice and develop their newly acquired skills. Students are encouraged to use cursive in their daily work by January. The Zaner-Bloser curriculum guides the instruction and growth of cursive handwriting.
English/Writing: In third grade, students use the Write Source curriculum developed by Houghton Mifflin. Students practice the writing process of prewriting, first drafts, revision, editing and publishing. They also build on previous knowledge of the traits of writing. Students work to integrate ideas, organization, voice, word choice, sentence fluency, and conventions into their writing pieces. Third grade works to bridge the gap between second grade (sentences) and fourth grade (multi-paragraph essays) by focusing on constructing clear, concise paragraphs with main ideas supporting details and conclusions.
The writing curriculum is supplemented with instruction in grammar. Students use the Houghton Mifflin text English to learn and develop their understanding of the English language. Throughout the year, they focus on sentence development, nouns, verbs, adjectives, adverbs, punctuation, and pronouns. The integration of grammar and writing provides a strong foundation for success in writing and speaking.
Science: The science curriculum is taught with a balance of hands-on activities and solid content knowledge. The scientific process, critical thinking and scientific reasoning are used to solve problems and answer questions. Third graders visit the science lab every other week to put their content knowledge into action through guided experiments or experimentation.
Social Studies: Social studies is an integral key to becoming active citizens of our world. We use the Meet Michigan textbook. This text focuses on Michigan history themes, economics, geography and other Michigan historical and present-day themes.
Enrichment
Specials and enrichment opportunities enhance the third-grade core curriculum.
Spanish: All St. Francis students learn Spanish. Third grade continues building vocabulary and developing beginning reading, writing and conversation skills. Students also learn about the Hispanic culture and Catholic faith with short prayers, songs and traditions.
Specials: Each week our third graders participate in art, music, and physical education. The children also benefit from participation in the Christmas program and Elementary School Choir.
Library and Computer Lab: Students visit the library each week to select various texts that enhance learning and the enjoyment of reading. They also visit the computer lab to practice advanced technology strategies and receive instruction in keyboarding weekly.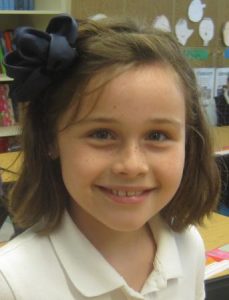 Field Trips: Third-grade field trips focus on supplementing our social studies curriculum. We visit the State Capitol to bring our Michigan government content to life and we attend Rural Education Days to explore Michigan's agricultural contributions.
General Information
Homework: Homework is assigned on a daily basis during the week and occasionally on weekends.
Looking Ahead: Every Sunday the teacher posts a weekly newsletter on Edline.
Web Page: The third-grade web page on Edline shares valuable information about the curriculum and events throughout the year.