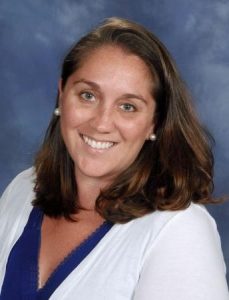 Dear Friends,
Welcome! St. Francis of Assisi Catholic School is a very special place. I have grown up in this school and the foundation it provides so many is invaluable. It has been my absolute honor to be a part of this family as a student, teacher, and now principal.
Our school, a vibrant and viable ministry of St. Francis of Assisi Catholic Church, is an outstanding Catholic academic institution. While our academic excellence drives much of what we do, we are, first and foremost a Catholic school with a priority in our faith and commitment to our Gospel values.
St. Francis School has always been a leader in academics within the Ann Arbor community. After High School, our students attend outstanding universities and colleges including but not limited to: University of Michigan, Harvard, Stanford, Yale, Michigan State, Notre Dame, Hope College, Calvin College, and many others.
Our faculty and staff are dedicated, talented and highly professional. We are blessed that our teaching staff is so committed to the development of the whole child. While much of the formal instruction is on academic growth, the faculty creates a loving environment for moral and ethical development.
Our school thrives on the commitment from administration, teachers, and parents. We work together to create an exceptional learning community for our students. Parents are welcome in the classroom and are encouraged to participate in community events through our Parish and PTG.
As you search through our website, you will discover more about our school and community. You will see how our mission statement and philosophy reflect our faith values. Our mission statement drives all our endeavors from our course offerings and extra-curricular activities to the many opportunities available for parents/families. Visit our website and then come and experience St. Francis of Assisi Catholic School in person. We would love to meet you.
Yours in Peace,
Julie Fantone Pritzel
Principal Biographical Information:
Mrs. Fantone Pritzel has been employed with St. Francis of Assisi School since 2004. She has served as a teacher, assistant principal, and now principal since 2012. Mrs. Fantone Pritzel is an alumna of St. Francis School and has many fond memories of the school as a student.
Mrs. Fantone Pritzel attended Alma College where she received her Bachelor's of Art Degree in Elementary Education (K-8) with minors in English and Social Studies. Her first master's degree was from Eastern Michigan University where she earned her degree as a Reading Specialist. Her second master's degree is from Marygrove University in Educational Leadership.