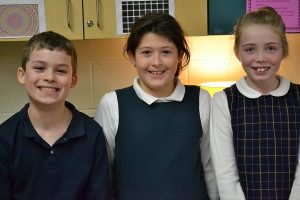 Our Philosophy
Our St. Francis School fourth-grade program encourages a greater sense of responsibility to others and to ourselves. Basic Catholic values are taught and applied to all facets of the curriculum so students view themselves as contributing members of God's family.
Fourth-grade students increase their view of the world through a balance of rigorous academic expectations and extracurricular activities. We help each child grow less egocentric as we enforce following directions, being respectful and being responsible.
Fourth-Grade Curriculum
St. Francis offers a strong and varied academic curriculum for fourth-grade students.
Religion: The religious education program centers on the Ten Commandments in fourth grade. Students use the Faith First text and complete in-depth studies of each commandment. Students also cover the Sacrament of Reconciliation and discuss the Benziger's Family Life series.
Reading: Novels are taught using the comprehension strand of Project Read. Research, comprehension, vocabulary and fluency skills are taught. We also supplement our program with the Accelerated Reader program.
English: Basic grammar is covered and culminates in beginning diagramming. Students use the text, Write Source , to guide them through composing. Process writing includes stories using Project Read story form, five-paragraph essays and some poetry. Punctuation and capitalization rules are taught, practiced and enforced. Students keep a writing notebook of their compositions.
Spelling: Pre-tests are given every Wednesday followed by a final test on Friday. Spelling units are introduced every Friday and work is done independently during the following week. Students use Zaner-Bloser's Spelling text.
Handwriting: Students review the cursive alphabet with the use of Zaner-Bloser'sHandwriting. Letter formation, strokes, slants and spacing are reinforced throughout the year.
Science:  The study of science encompasses life science, physical and earth science; the scientific method and lab demonstrations. Report writing and a Science Fair experiment are part of the fourth-grade science curriculum.
Social Studies: We use the Our Michigan Adventure text to focus on Michigan's past, present and future. Map skills, economics and our core democratic values are covered. Economic concepts and vocabulary are taught as they relate to Michigan's development and growth.
Math: Our math program, Macmillan McGraw-Hill's Math Connects, comes with a wide variety of resources that can be found online at http://www.macmillanmh.com. The program takes a problem-solving approach to math while providing personal tutors, games and help with each lesson — all at your fingertips!
Enrichment
Specials and enrichment opportunities enhance the fourth-grade core curriculum.
Spanish: All St. Francis students learn Spanish. Fourth graders continue to build vocabulary and their reading, writing and conversation skills. Students will also learn about the Hispanic culture and Catholic faith with short prayers, songs and traditions.
Specials: Each week our fourth graders participate in art, music, library, computer lab and physical education.
Fourth-Grade Play: Try-outs and rehearsals are held in February for the fourth-grade musical performed in May at the Mary Lou Daby Spring Arts Festival. Students learn basic acting and blocking skills. This is an exciting four-month project.
Field Trips: Various field trips throughout the year complement our social studies, science and language arts curriculum.
How to Get Ready for Fourth Grade
Many children find the transition to fourth grade challenging. Here are some tips to help you prepare.
Practice cursive over the summer
Keep a journal
Read for 15 to 20 minutes daily
Review basic math facts
Fourth-Grade Survival Tips
When you're a fourth grader, here are some survival tips to ensure your success.
Keep your assignment book up to date and have your parents check it daily
Learn to study for weekly quizzes and tests
Understand the importance of vocabulary and bold-faced headings
Capitalize and punctuate properly every time
Learn some test-taking skills
Edit! Edit! Edit! Quality of work is most important