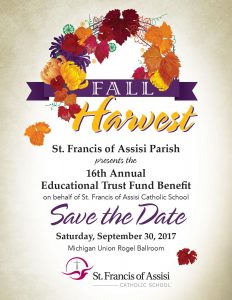 16th Annual
Educational Trust Fund Benefit

FALL HARVEST

Saturday, September 30, 2017


Michigan Union Rogel Ballroom
Danaica Watson, Chairperson
Diane Green-Boyd, Co-Chairperson
Join our planning committee and attend our monthly meetings at 8AM on the fourth Thursday of each month, in the Parish Office Meeting Room.
For more information, please contact the Development Office at development@stfrancisa2.org or 734.821.2208.
Thank You Sponsors!
(As of 8/10/17)
Bronze ($1,500)
Jeff Crause & Ed McClellan at Edward Jones
Archangel ($1,000)
Active One Construction
Angel ($500)
Ann Arbor Cleaning Supply
Campbell, Inc. Mechanical Services
Independent Bank – LeeAnn McKeon
Pat Walters & Sons Heating & Air Conditioning
Weingartz Supply, Inc.
One-of-a-Kind Treasure Auction Items Wish List
Airline Miles/Flight Vouchers/Credit Card Points
Bed & Breakfast
Bucket List Experiences
Classes/Lessons (Cooking/Dancing/Music/Swimming, etc.)
Dinner Parties
Favorite Bottle (or case) of Wine
Gift Certificate or Card to Restaurant, Boutique, or Activity
Jewelry
In-Kind Professional Services (Lawn Care/Personal Training/Babysitting, etc.)
Memberships (Gyms/Parks/Clubs, etc.)
Sports (Autographed) Memorabilia and/or Tickets
Theater Tickets
Travel Packages
Week or Weekend at Vacation Property/Timeshares
---
Ruby's Jazzy Speakeasy Photo Gallery
2016 Educational Trust Fund Benefit