.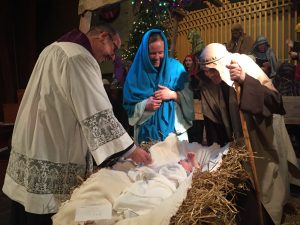 Sign up your child for the Living Nativity Procession, Sunday, December 16 at 5pm in Church.
The Living Nativity on Sunday, December 16 at 5 p.m. is a joyful event telling the story of the birth of Jesus Christ through song, scripture narratives, light acting, and live animals. Reminiscent of the re-creation of the Nativity scene by our patron, Saint Francis of Assisi, the event in church is followed by a procession to the gym for more animals, the stable, and refreshments.
Invite your child to be a part of the Nativity! Sign up here.
Children in grades preK-5 are invited to dress up as shepherds, angels or members of the king's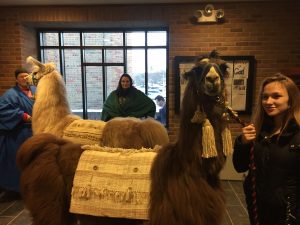 caravan. Middle School and High School Youth help in a variety of roles.
Parents, please provide a simple costume for your child. The Nativity will take place in the Church and the Gym so no need for worry about the cold.
Please mark your calendar for the rehearsal dates:
Angel Choir (Children K-8), dress as angels (or in period costume) and sing for the Nativity. Rehearsal times TBD.
Angels (grade PreK (4yrs)-K and 1-5) rehearse on Sunday, December 9 at 2 p.m. in church.
Shepherds & King's Caravan (grade K-5) rehearse on Monday, December 10 at 6:30 p.m. in church.
Contact Ellen Ward at ward@stfrancisa2.org or call 734-821-2130 for questions.