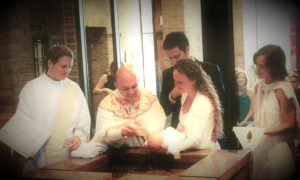 A Celebration of New Christian Life in the Body of Christ
Infant Baptism
Congratulations on your new child in your family. This is a wonderful gift.  You can begin the Baptism preparations by contacting our Parochial Vicar at 734-821-2100.
If your child is 7 years old or older, please contact the Religious Education office to begin preparation: ward@stfrancisa2.org 734-821-2132
Baptism within the Parish Community:  Sundays at 12:30pm
Our St. Francis community will offer fellowship and formation for your child and family.  We celebrate children's baptisms during the Sunday 12:30 pm Mass most Sundays of the year.  Many parishioners are involved in the preparation of this celebration, such as Baptism class facilitators, Baptism set-up team, sewing team, and communications team.  If you are interested in helping out, please call 734-821-2100.
(Please note, infant baptisms are neither scheduled during the Season of Lent: Feb. 17, 2021-Sat., April 3, 2021; nor on First Communion weekend, the first Sunday of October, Christmas Eve/Day, and New Year's Eve/Day.)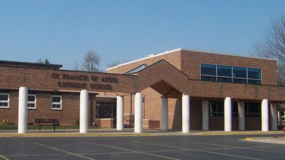 Pre-Baptism Class  – We ask that you participate in a pre-Baptism class. The class is offered the first Thursday of each month in the School Library at 7:00 pm. Please contact the Parochial Vicar to sign-up. We recommend that you attend the class before the birth of your child.  Godparents are also encouraged to attend.  Children of any age are welcome to attend, too.  Enter through the school main doors.  The library is immediately to your right.  (You only need to attend the class once every five years.  If you took a class at another parish within five years of your child's baptism date, please ask that parish to give you a certificate showing you attended or have them contact our Parochial Vicar.
Godparents (Sponsors) 
All godparents must meet the following criteria established by the Roman Catholic Church:
It is necessary to have at least one godparent; it is permitted to have two.
If two Godparents are selected, one must be male, and one must be female.
They must be at least 16 years old
They must be practicing the Catholic faith and must have received the Sacrament of Confirmation.
A person who is baptized but not Roman Catholic may participate as a Christian Witness.
St. Francis Parish asks that Godparents who are not registered at St. Francis as parishioners have this form signed by their local pastor and return it to St. Francis at least one week before the scheduled baptism.
Checklist to have your infant baptized at St. Francis
Be active in your faith! Believe in the Gospel and be reconciled with God!  Register as a parishioner if you have not done so.
If you are not married in the Catholic Church, contact our pastor Fr. James Conlon (frjames@stfrancisa2.org 734-821-2104) so that you will be equipped to raise your child in the practice of the faith, take part in the Sacraments, and receive the Eucharist as a family.
Attend an Infant Baptism Class on a first Thursday of the month at 7pm.  If you took a class within the past 5 years at St. Francis or another parish (and can provide proof of attendance), you do not need to repeat it.
Have your selected Godparents get this form signed by their local pastor (if they are not parishioners at St. Francis).  It must be returned at least one week prior to the scheduled baptism.
Contact our Parochial Vicar to set a date for your child's baptism:    734-821-2105 frjohn@stfrancisa2.org
Adult and Teen Baptism
Are you . . .
– Interested in the Catholic faith?
– An adult or teen who was never baptized?
– A parent of a child (over the age of 7) who did not receive Baptism as an infant?
– A member of another Christian faith who is seeking to join the Catholic Church?
– A baptized Catholic who never received any religious instruction?
– A baptized Catholic who never received First Eucharist or Confirmation?
The Rite of Christian Initiation of Adults (RCIA) is a collaborative process of study, exploration, and faith formation intended for non-baptized adults, teens, or children of catechetical age interested in membership in the Catholic Church, as well as previously baptized Christians who wish to be fully initiated into the Catholic Church through the sacraments of Baptism, Communion and Confirmation. For more information, contact Kelly Hernandez at khernandez@stfrancisa2.org or 734-821-2122