Welcome to the St. Francis of Assisi School preschool program for 4-year-olds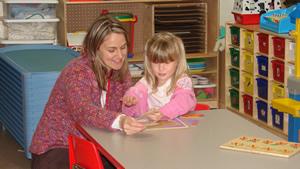 This is a full-day preschool program offered through St. Francis Elementary and Middle School. Part time and half day schedules may be available depending on enrollment.
Program Schedule
Full Day Preschool     7:45 am – 3:00 pm
Half Day Preschool    7:45 am – noon
Daily Program
The full-day preschool for four-year-olds uses the Creative Curriculum System.  This research-based curriculum model helps the staff present exciting studies throughout the year.  Each study incorporates many different project-based investigations that allow the children to actively explore the topic and find answers to the questions that they may have about the topic.  In addition, the preschool children will:
Play educational games focusing on math, letters, memory, etc.
Participate in dramatic play activities
Practice fine motor skills using a wide range of building and construction toys
Begin writing letters, numbers and words
See their words and ideas in writing
Be able to participate in art and craft activities
Have hands-on science and cooking experiences
Have the opportunity for one-on-one work to meet individual needs
Enrichment Opportunities
The children in the preschool class will have the opportunity to participate in a daily enrichment classes. During weekly visits to the Art and Music classrooms the children will be able to explore their artistic talents. The Spanish teacher will visit the classroom each week to introduce the children to the language and culture. The children will have the opportunity to have a structured gym period each week led by the St. Francis School physical education teacher. The classroom will visit the school library for a weekly story time.
Large Motor Activities
The children in Preschool will have daily outdoor play times except when prohibited by the weather. The children play in a large, fenced in playground geared to meet the needs of young children. Several weekly periods of free play are available in the gym.
Kindergarten Readiness
During the later part of the year the classroom will begin focusing on kindergarten readiness. The children will work on:
Increasing their ability to listen and follow directions
Mastering basic independence and self-help skills
Gaining a basic understanding of number concepts and letter recognition
Developing the pre-literacy skills needed to read and write
Color, shape and spatial recognition skills
Extended School Program
Preschool families have the option of enrolling in before or after-school care.
Before-School Care            6:45-7:45 am
After-School Care               3:00-6:00 pm
No-School and Half-Day Programs: Special programs are offered on many of the no-school and half-day sessions. The days care is offered is indicated on the school calendar.
For More Information
Please contact Christina Busse, Director of the Extended School Program and Preschool at 734-821-2290 or cbusse@stfrancisaa.org.