See: Spiritual Direction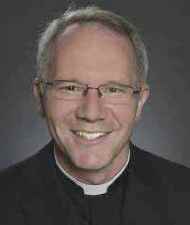 Dear Friends,
Early in John's Gospel, the evangelist recounts the disciples' beautifully simple question to Jesus, "Teacher, where are you staying?," to which He replies "Come and see."   These words encapsulate the journey I have been on with the Lord for most of my life; a journey which has taken me from Michigan to Washington DC, from school to work and back again to school, and from a life of self-conceived notions of success to one seeking self-abandonment and utter trust in His providence.  I have been abundantly blest in my life with opportunities, experiences, and relationships that have shaped how I see the world, and yet for much of my life I have felt a very subtle and constant call to give of myself entirely to the Lord and His people, the Church.  The Church has been an integral part of life ever since I was a child, and I am very grateful for having grown up with faith and in a family that is committed to serving others because of our faith.  My parents and my brother remain models for me of how to live a life of service for others, and I am grateful for their example and that of so many other friends, family, teachers, and mentors over the years.  For the past five and a half years, I have explored and discerned a priestly vocation in the seminary, and now, having been ordained a deacon last summer, I am a semester away from ordination to the priesthood.
I first thought about the seminary and priesthood back in high school, but I had other plans and goals that took me to Albion College, then to Washington, DC where I served in the Jesuit Volunteer Corps, then back to the University of Michigan where I earned degrees in law and public policy so that I could lead a life of public service.   Yet through it all, the Lord continued to speak quietly to me, and eventually I came to a point in my life where I could no longer ignore His call.  I had to consider that perhaps He was calling me to serve Him as a priest, and I realized that I had to go to seminary to find out.   For many years I have sought to know where the Lord is staying in my life, and through the ups and downs and twists and turns, I have realized that He has been with me always, walking with me not only as my Lord and Savior, but also as my friend and brother.  It is my desires to know the Lord Jesus and help others better know Him present in their lives that propel me forward into ordained ministry.  I believe this is the vocation-to be His priest-that He has willed for me for my entire life, and my journey has been to discover be open to His will.
Even though Washington DC has become my home and I will be ordained a priest for the Archdiocese of Washington, I will always consider Ann Arbor as my lifelong home and St. Francis of Assisi Parish as my lifelong home parish!  St. Francis has been an integral part of my life, and I am so grateful for the many opportunities the parish has given me over the years to grow in my faith.  I have been blest to have attended St. Francis School, served in the music ministry, worked in parish office, and participated in the high school youth group, and through all these experiences, I have met so many people who have inspired me along my faith journey.   The teachers, staff, and clergy of St. Francis have been great blessings in my life, and I am grateful for their care and example over the years.  And I am extremely thankful to you, the people of St. Francis parish.  Thank you for your prayers, encouragement, and support throughout every journey of life, which has led me to the seminary and into ordained ministry.  I pray that we may each know God's love for us and open our hearts to truly listening to Him, speaking to us and guiding us through every journey of our lives.  God bless you all!
In Christ,
Deacon Andrew Wakefield