ReConnect Spiritual Challenge: Day 8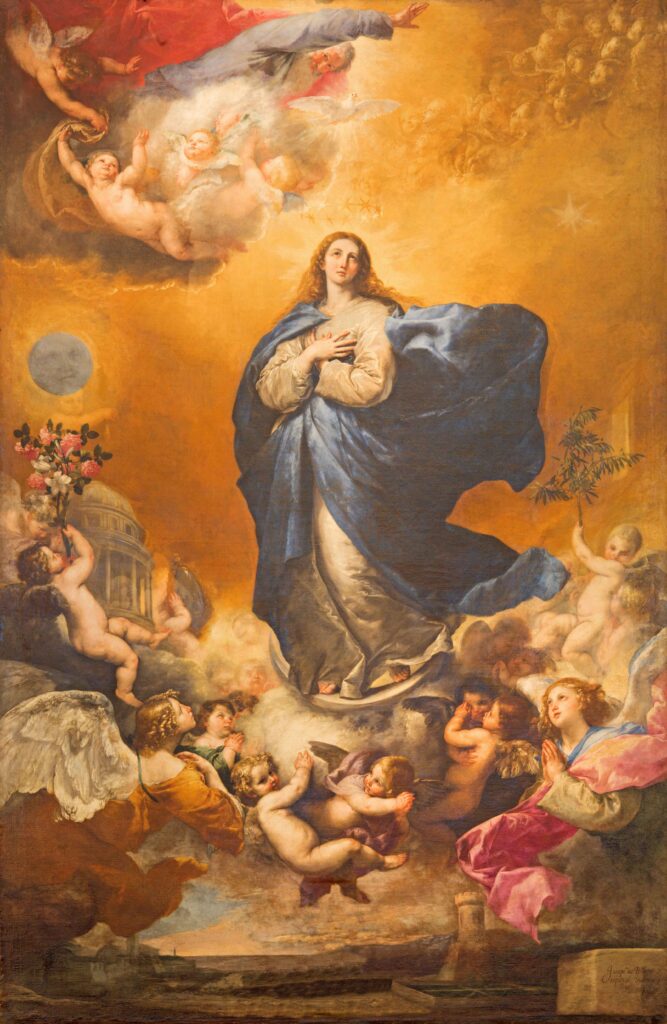 Image: The Lady… joined her hands and raised them to her breast… She looked up to heaven… then slowly opening her hands and leaning forward towards me, she said in a voice vibrating with emotion, "I am the Immaculate Conception" (The Diary of St. Bernadette)

Saying yes to Christ
"Then the angel said to her,"
Do not be afraid, Mary,
for you have found favor with God.
Behold, you will conceive in your womb and bear a son,
and you shall name him Jesus.
He will be great and will be called Son of the Most High,
and the Lord God will give him the throne of David his father,
and he will rule over the house of Jacob forever,
and of his Kingdom there will be no end."
But Mary said to the angel,"
How can this be, since I have no relations with a man?"
And the angel said to her in reply,"
The Holy Spirit will come upon you,
and the power of the Most High will overshadow you.
Therefore the child to be born
will be called holy, the Son of God.
And behold, Elizabeth, your relative,
has also conceived a son in her old age,
and this is the sixth month for her who was called barren;
for nothing will be impossible for God."
Mary said, "Behold, I am the handmaid of the Lord.
May it be done to me according to your word."
Then the angel departed from her. (Luke 1:30-38)"

Saying yes to God can often be the most challenging part of the Christian life–yes to our vocation and calling in life, yes to the needs of others, especially those closest to us, yes to following God's law when all around us–so many alternatives are presented. Today we celebrate a unique yes–Mary's yes as we celebrate the Solemnity of the Immaculate Conception. Mary's "let it be done to me according to your word" has echoed through the generations as the model for all of us.

By saying yes to Christ, we accept the beginning of the great drama of our salvation. By being preserved free from Original Sin, God prepared Mary for her yes–the yes to being Mother of the Savior and his preeminent and faithful disciple. Both go hand in hand! You see, the Christian life is always about saying yes to the Lord, especially when we know it is challenging and even difficult. Mary models that response for us today and helps us with her prayers and her witness.

As we now journey together through Advent to celebrate the birth of Christ, how firm and strong is your/our yes to Christ? What else can we do to strengthen that sacred relationship especially through our daily prayer life, our reception of the sacraments, and our sharing with others? Advent is a time to prepare–not just for Christmas, but for the return of Christ in glory–a time to be used well!
Activities:
Choose one to start and explore more as time permits.
Read: Reflect on today's liturgical readings. Ask yourself how these readings speak to me, connect to me, challenge me to new thinking and understanding–about my life, my faith, my connection to my community, and my yes?
Pray: As our national feast day is a holy day of obligation, come to Mass at St. Francis today, Wednesday, December 8, at 9:15 a.m. or 7 p.m.
Give: Share your material blessings of this world with those less fortunate–give a gift to support our sister parish of Corpus Christi, Detroit, or to our friends in the Diocese of Kottappuram, India, or the Christian community in the Holy Land.
Worship: Join us during Advent for our final two Tuesday evening 5 p.m. Masses, followed by presentations entitled "A Marian Advent." We will learn about the four great dogmas of the Church as they relate to Mary and her role in our redemption.

Listen: Prayerfully to Jessye Norman's extraordinary performance of Schubert's "Ave Maria" (Hail Mary). Sung in German by this angelic voice, and based on today's gospel, it recalls the words of the Angel to Mary and her "yes" to the Lord.
Links to Resources can be found here on the ReConnect: 21 Day Spiritual Challenge
ReConnect with your faith and community today, tomorrow — and yesterday! If you miss a day, go back and check out all prior challenge days HERE on our website. We are all imperfect children of God, so let's KEEP TRYING! To further reconnect with St. Francis Parish, please contact the parish office at 734-821-2100 or via email parishoffice@stfrancisa2.org. We look forward to reconnecting with you!
Add your email to receive the ReConnect daily emails Dec 1-21 HERE.