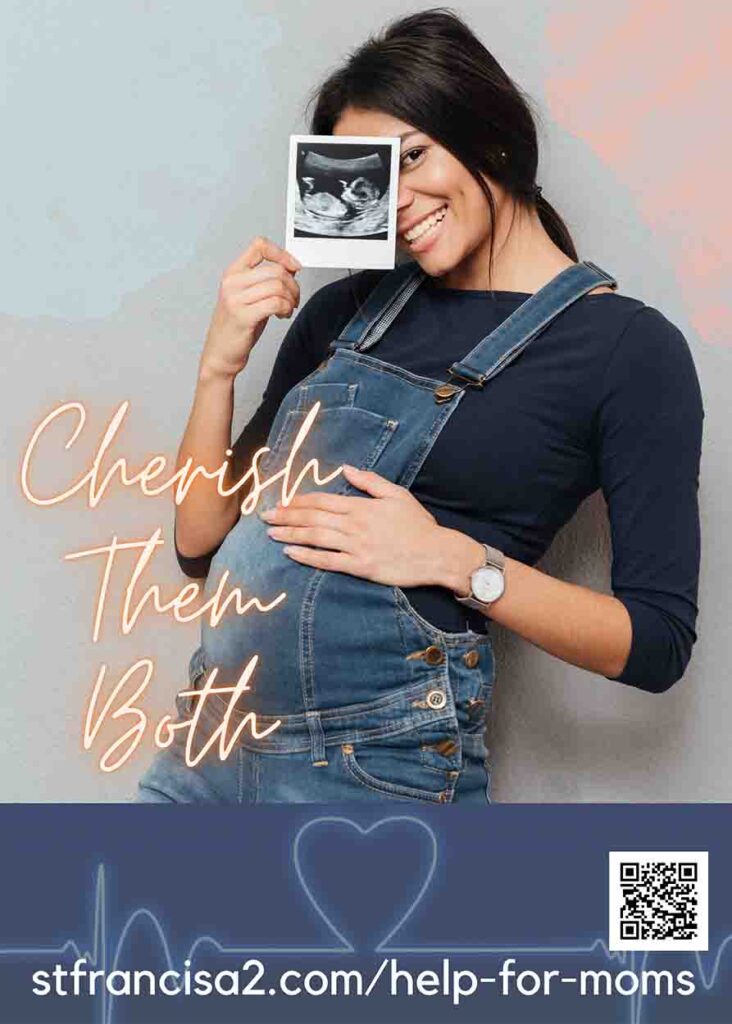 We at St Francis of Assisi Parish renew our pledge to support women, regardless of age, marital status, or immigration status, who are pregnant and in need, both during pregnancy, after birth, and in raising the child. Our services may include direct aid and include assistance by referral to organizations dedicated to helping mother and child. For resources, please see our webpage at: https://www.stfrancisa2.com/help-for-moms/
---
Take the Pledge: Cherish them Both
We encourage our St Francis parishioners to take their own pledge, a pledge that cherishes life:
As a parishioner of St. Francis of Assisi Parish, I acknowledge that all human life from conception to natural death is a sacred gift from God to be cherished and loved. I pledge to support at all stages the gift of life, especially the life of the unborn and where necessary to assist with my prayers, service and financial gifts, both mother and baby in times of need, crisis and unplanned pregnancies.
Thank you to the 180 attendees for the event. God bless you and Spread the word. Due to technical difficulties, a part of Dr. Collier's talk on her personal journey was not able to be recorded. The majority of her talk on Life and the answer to questions toward the end of the video were recorded.
Panel Members Include:
Kristin Collier, MD
Clinical Associate Professor of Internal Medicine
Associate Program Director, Internal Medicine Residency Program
Director, University of Michigan Medical School Program on Health, Spirituality and Religion University of Michigan

George Kimball, attorney with more than 40 years' experience, and a graduate of UCLA, University College London, and the University of Michigan Law School, where he now teaches as an adjunct lecturer.

Edmund Miller, Guadalupe Workers

Hallie Gonzalez, OB/GYN Certified Nurse Midwife, with a Masters of Science in Nursing from the University of Michigan