Pilgrimage: Vineyard September 12 & 13 with Fr. James Conlon
Join us on a Pilgrimage to the Vineyards of Old Mission Peninsula near Traverse City, MI, with Fr. James Conlon. We leave at 7:15 a.m. on Tuesday, September 12 and return on Wednesday, September 13 at 10:30 p.m.
Our pilgrimage to the vineyards of Old Mission Peninsula promises to deepen our understanding of our Lord's references to the vineyard, "I am the vine, you are the branches. Whoever remains in me and I in him will bear much fruit (John 15:5)" and includes Mass, Scripture to Life Experiences, Renewal of Wedding Vows, and other spiritual and educational opportunities. We'll stop by a few vineyards and spend some time enjoying the Grape to Glass wine tour. Come experience the Vineyard as seen through the eyes of Faith.
Cost is $225/person or $425/couple. Our price includes overnight lodging, bus, tours with 2 full wine tastings (additional wine tastings are on your own, usually $5-7 for 5 tastings), 2 lunches and breakfast. Please pay for your own dinners.
For the itinerary or to sign up, please see our Pilgrimage: Vineyard Form.
Questions? Contact: Scott Wright at swright@stfrancisa2.org or 734-821-2121 or Ellen Ward at ward@stfrancisa2.org or 734-821-2130.
---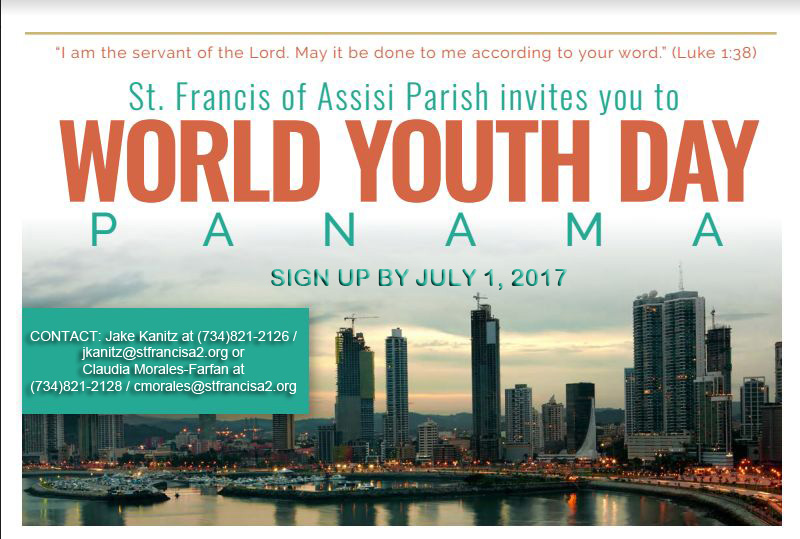 World Youth Day 2019, Panama  |  Jornada Mundial de la Juventud 2019, Panamá
Don't miss out on the opportunity to celebrate our faith with millions of Catholics, including our beloved Pope Francis, in the beautiful land of Panama!
Corporate Travel Services, our travel planning agency, must charter an airplane for this specific pilgrimage … Because of this, a $500 deposit is required by September 1st., 2017 to reserve a seat. Space is truly limited!   (The deadline was extended from July 1st. to September 1st., 2017.)
We will have fundraising opportunities for those attending and to give back to a Parish in Panama. Stay tuned!
FAQs:
Is Panama safe to visit? YES! Out of the Top 50 Safest Countries to visit, Panama ranks at 44th.
What is the suggested age to attend? "World Youth Day is a pilgrimage experience targeted to those  ages 16 to 35. We especially encourage Young Adults in their 20s and early 30s to attend …" (USCCB). If you are 16 or 17 at the time of travel, a responsible adult must accompany you.
Contact Jake Kanitz at jkanitz@stfrancisa2.org or 734-821-2126 or Claudia Morales-Farfán (¡hablo español!) at cmorales@stfrancisa2.org or 734-821-2128.
For more information and to register, click here.
---
St. Francis of Assisi Catholic Parish, 2150 Frieze Ave., Ann Arbor, MI 48104.