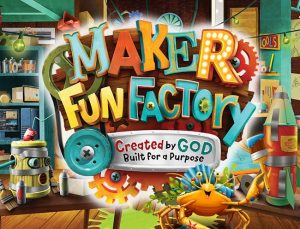 Monday, July 17 – Friday, July 21, 2017
Imagine a world where curious kids are hands on inventors who discover they are wonderfully crafted by God.  We'll be mixing a little engineering with lots of faith and Catholic tradition.  We'll have guest speakers who will show and tell the whys and hows of creatively living out our Faith in our modern world.  Stay tuned for more details.
We are planning a great Summer 2017 Vacation Bible School.  This year's Vacation Bible School will begin on Monday, July 17 until Friday, July 21 from 9 am to 12 noon each day except Friday will end at 1:30 pm for the closing and picnic. Your children going into 2017/18 Preschool (4 years) and Grades K-5 will enjoy a faith-filled experience.  It is a week long of adventure, with the Bible Theme:
"Maker Fun Factory" Created by God, Built for a Purpose, will include guest speakers that will inspire your child's imagination of the possibilities in God's great world.   At the end of this grand adventure, we will conclude on Friday and enjoy a Family VBS Picnic.
Parents, sign up online your children and volunteer here!
For a paper form to download, fill out, and return, click here.
Parents, Grandparents, Middle and High School teens can be a part of this week of adventure by volunteering.  Youth volunteers, please sign up here!
Parents may sign up on the same form as they sign up their children.  Young adults and adults, please sign up here!
We are looking forward to joining you and your children this Summer at the 2017 Vacation Bible School.