Vision: We are Catholic women in all stages of life discovering what God is calling us to do. Through prayer, fellowship, and study, we strive to grow in our relationship with Christ and one another.
Our theme for this year is: "Living a Grace-Filled Life, Finding God in the Ordinary."

In order to respond to our Lord's request to live out the Gospel through the Works of Mercy, in lieu of bringing treats to share, we invite you to bring a small donated item for the various charities and ministries that we will be supporting. More details on signups.
JOIN US:

Francis, the son of a rich merchant left everything in pursuit of Christ. Clare followed in his path, leaving her home and family to become a bride of Christ. Sister Joan of the Sylvania Franciscan Sisters, will speak on how this profound relationship between these two disciples led them to deeper faith and impacted the world for centuries to come.
About Sr. Joan:
Sister Joan Jurski is a member of the Congregation of the Sisters of St. Francis, Sylvania, Ohio. Her ministry as a Sister of St. Francis includes twenty-seven years as an elementary and high school teacher. As a Franciscan, she continued other ministries serving others, which included ministry at a homeless shelter in Boston, Director of the Office of Peace and Justice for the Diocese of Raleigh, NC and Congregational leadership. She is presently the Director of the Office of Franciscan Spirituality Experiences for the Congregation.
DONATIONS:
Please consider supporting the Franciscan Sisters of Sylvania's: Bethany House Bethany House provides shelter and resources for victims of domestic violence and their children to safely rebuild their lives. While most homeless shelters offer limited, short-term stays, Bethany House is the only organization in northwest Ohio to offer long-term, apartment-style transitional shelter, combined with emotional, spiritual and financial support. Their Trauma-Informed program is tailored to the unique situation of each individual. Cash or check donations made out to: St. Francis of Assisi Memo: Bethany House (we will consolidate all donations and write out one check)
---
Reserve Your Spot:
Saturday, November 17th
Women's Day of Reflection: "In Your Presence is Fullness of Joy"
https://stfrancisa2.wufoo.com/forms/womens-day-of-reflection/
Saturday, November 3rd
Diocesan Women's Conference: "Arise, My Beloved"
---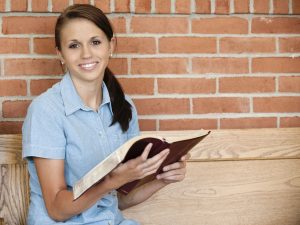 Small Group for Women
SIGN UP FOR ADVENT SMALL GROUP
Join us every Fall and Lent for a Small Faith Sharing Group especially designed for women. Come enrich your faith through reading and discussion with other women from all walks of life. For more information on our Faith Sharing Groups, click: Advent and Lenten Small Group or contact Kelly Hernandez at khernandez@stfrancisa2.org or 734-821-2122.