Enter into Advent and Encounter more fully the joy of the Lord in Christmas: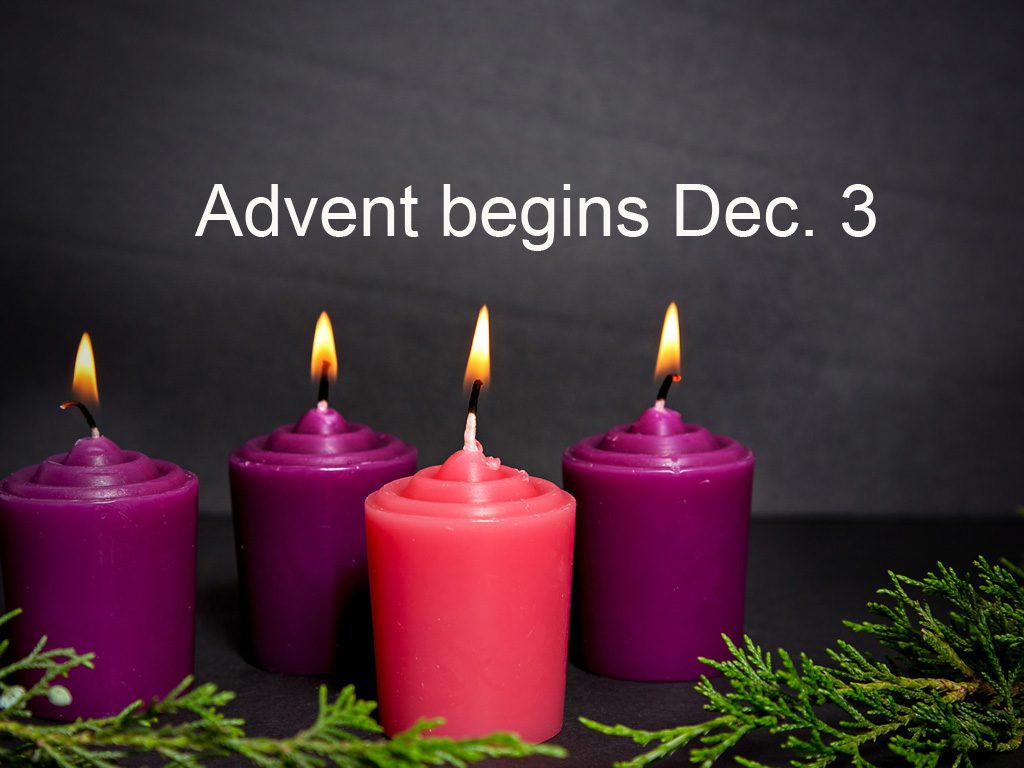 Advent Daily Mass Times:
Mon, Tues, Wed at 9:15 a.m. in the main Church during the Advent and Christmas seasons
Thursday at 9:15 a.m. in church followed by Holy Hour of prayer, and Adoration of the Lord in the Blessed Sacrament until 6:30 pm
Friday at 8:15 a.m. in the main Church.
Advent Confession times:
Thursday, December 7 during weekly Holy Hour (9:45 a.m. following the 9:15 am Mass)
Tuesday, December 12 prior to Mass for Our Lady of Guadalupe (confession in both Espanol & English from 6-6:45 pm)
Communal Penance Service: Thursday, December 14 at 7 pm
Saturday, December 16 from 11 am to 12 noon and from 3:30 pm to 4:30 pm
The next opportunity for confession in English at St. Francis will be Saturday January 6
Sunday Mass Times (for December 3, 10, 17):
Saturday Vigil at 5 pm;
Sábado 7 p.m. Santa Misa en Español (confesión 6 p.m.)
Sunday at 7 am, 8:30 am, 10:30 am, 12:30 pm, 5 pm.
Solemnity of the Immaculate Conception (Holy Day of Obligation: Dec 8) Mass Times:
Vigil Mass Thursday, December 7 at 7 pm
Friday, December 8 at 8:15 am and 7 pm
Christmas & 4th Sunday of Advent Mass Times
4th Sunday of Advent Masses, Saturday, December 23: 5 pm and 7 pm (Spanish Mass) and Sunday, December 24, 8:30 am Please know that Regardless of language, all are welcome at all Masses.
Christmas Eve Masses, Sunday, December 24: 4 pm (Children's Mass), with overflow seating in the PAC; 6 pm, 8 pm and 10:30 pm (Caroling begins at 10 pm).
The 10:30 pm Mass is live-streamed and will be available to view anytime.
Christmas Day Masses, Monday, December 25: 9:30 am and 11:30 am
New Year's Eve, Sunday, Dec. 31: 7 am, 8:30 am, 10:30 am and 12:30 pm
Solemnity of Mary, Mother of God: Monday, January 1 at 10 am
---
Some of our Advent Events follow:
---
Images of Mary from Around the World: See the images in Church December 9 & 10.
---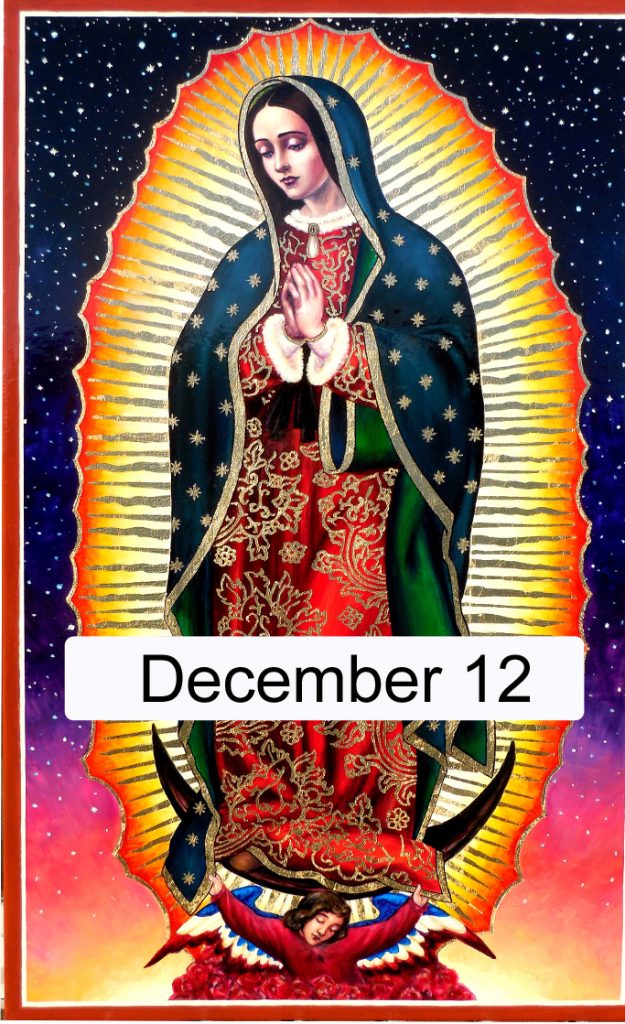 Celebration of our Lady of Guadalupe
Tuesday, December 12 at 7 PM
Musical Tribute to Our Lady begins at 6:30 PM
The Sacrament of Reconciliation (confession) is offered in English and Spanish from 6 p.m. to 6:45 p.m.
You and your family are invited to join in a bilingual celebration (Spanish and English) in honor of Our Lady of Guadalupe, the Patroness of all the Americas. Fr. James and Fr. Rogelio are concelebrating the Mass. Children are invited to bring a flower to Mass. A reception follows Mass in the Parish Activities Center (PAC). Please bring your favorite food to share. Regardless of language, all are welcome.
Fiesta de Nuestra Señora de Guadalupe
Martes, 12 de Diciembre a las 7 de la tarde
La Serenata a las 6:30 de la tarde
El Sacramento de la Reconciliación (confesiones)
se ofrecerán en Inglés y en Español de 6:00 a 6:45 pm.
Te invitamos a ti y a tú familia a nuestra celebración bilingüe (Español e Inglés) en honor a Nuestra Señora de Guadalupe, patrona de las Américas. Los padres, Rogelio y James, serán quienes celebren la misa y de acuerdo con la tradición mexicana habrá música de mariachi.
Invitamos a los niños a traer una flor a la misa. Después de la misa tendremos una recepción en el Centro de Eventos de la Parroquia (Parish Activities Center). Por favor trae tu comida favorita para compartir.
---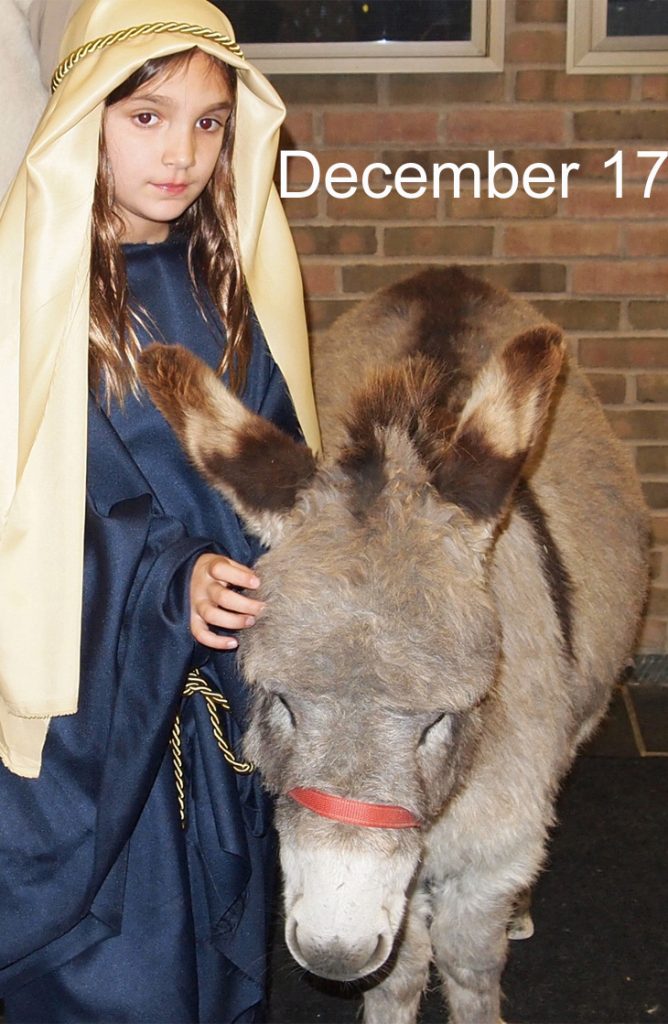 The Living Nativity & Carols with a Luminary Walk Outdoors (weather permitting)
Sunday, December 17 at 5 PM beginning in Church
Come Experience with Joyful Anticipation:
+The Scripture Narratives of the Coming of our Savior Jesus Christ
+Live Animals (donkey, sheep, goats, llamas (aka camels) to Honor the Birth of the Christ Child
+Resplendent Music to Glorify the Lord
+The Peaceful Wonder of the Nativity
+Luminary walk outside (weather permitting) past the stable.
Scripture & Carols last about an hour with the walk outdoors at your leisure. All ages, from the youngest to the eldest, are welcome. A reception follows in the Parish Activity Center (PAC).
---

Pasterka – Polish Shepherd's Mass
Saturday, January 6, 2018, 5pm Mass at St. Francis of Assisi, Ann Arbor, celebrate this Polish tradition with Bishop Earl Boyea in English and in Polish language with Choir Filareci from Troy, Michigan, singing kolędy, traditional Polish Christmas carols in the spirit of joy.   The Mass is followed by a light reception in our PAC Parish Activities Center.  All are invited to bring a dish to share.  Sign-up to volunteer here!

St. Francis Parish has enjoyed this Polish tradition for more than 30 years, since about 1982.    Like those shepherds, in haste, let us go to adore Him!  (Luke 2:8-20)
---