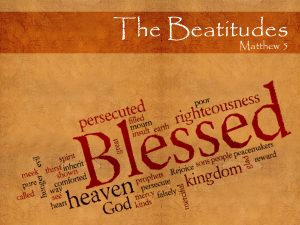 Blessed
Contemplate the Beatitudes of Jesus through modern films. Questions for reflection are distributed before each film begins, and the audience is invited into a prayerful and particular viewing of the film. Time is available after the film for those who would like to discuss the film. Rediscover the Beatitudes through cinema, and encounter God and each other.
Each film is appropriate for people ages 16+. Students younger than age 16 should be accompanied by parents. Some of the films are shown with English subtitles. Bring a neighbor, colleague, or classmate to a film night as a way of introducing them to our parish community. Attend as many of the films as you are able.
Films begin at 6:30 p.m. in the PAC (Parish Activity Center), and hearty snacks will be provided.  A $1 donation is suggested to help defray the cost of the food during each film.  You are also welcome (and encouraged!) to bring comfy cushions, etc., to sit on.
The last two films are:
March 21 – The Peacemakers – Hotel Rwanda
April 4 – The Persecuted – Imitation Game